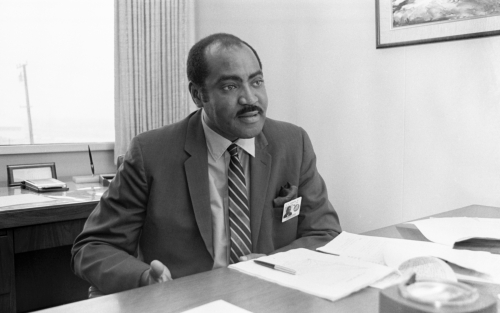 Inspired. Innovative. Impressive.
That's the best way to describe the students who participated in The Aerospace Corporation's 2018 Robert H. Herndon Memorial Science Competition, which took place on May 17 at Aerospace's East Coast office in Chantilly, Va. and on May 24 at the El Segundo, Calif. headquarters. Middle and high school students presented an array of experiments and inventions—both practical and aspirational—that drew upon the traditional disciplines of electrical, mechanical, structural, and environmental engineering as well as biology, material science, and physics. Each team had a faculty sponsor and an Aerospace employee who acted as an adviser. Students got experience in pitching their ideas to the judges, an important skill for any career in science and engineering. In addition to tabletop demonstrations, the competition included an essay component. The judging panels included representatives from both Aerospace and the Air Force.
This was the 41st year for the science competition, founded in 1977 to honor the legacy of Robert Herndon, a man who set precedents, blazed trails, and mentored many. Herndon was the first black engineer at North American Aviation at a time when technological advances were rapidly taking place in aeronautics. He joined The Aerospace Corporation shortly after its inception in 1961 as a structural engineer. Herndon later moved to systems management and was promoted to group director of the Advanced Mission Analysis Directorate where he was responsible for performing aerospace systems studies for NASA. The studies covered a broad range of disciplines and technologies and provided valuable insight into national space issues. Herndon also played a key role in helping Aerospace define policy and practices for equal opportunity.
Well respected for his ability, humility, and passion for inspiring others, Aerospace established the annual science competition to continue Herndon's legacy of mentorship. The competition events are designed to stimulate and promote interest among underprivileged and minority students in engineering and STEM subjects while increasing diversity across the aerospace industry.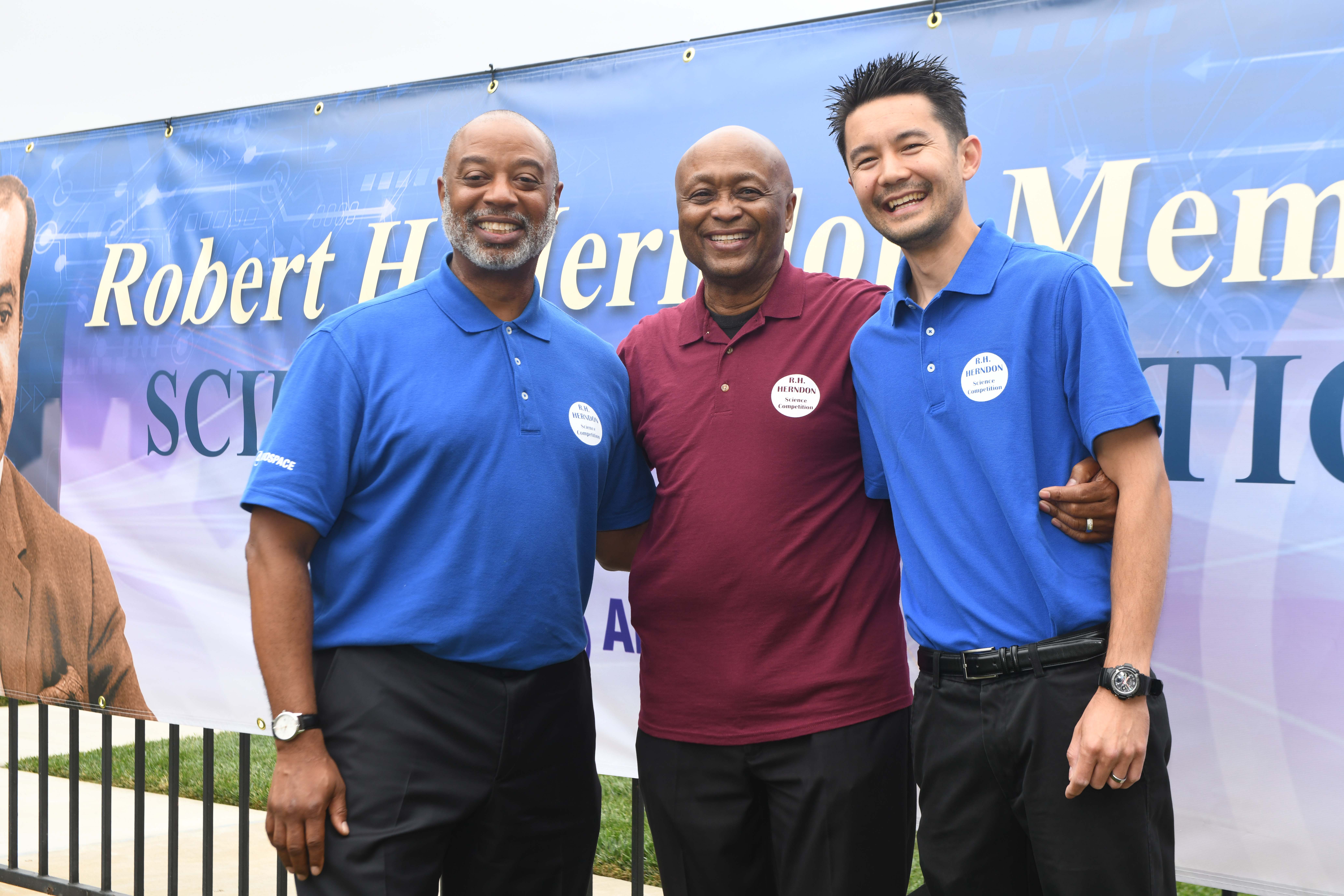 The goals and purpose of the Robert H. Herndon Memorial Science Competition are best personified in this year's competition co-chair, Oliver Ambrosia, an engineering manager at Aerospace and former student winner. As a 17 year-old student at Venice High School, Oliver and his teammate used water cooling to improve the performance of a personal computer's CPU, enabling it to run 50% faster. Their project won first prize in the high school experiment category. Later, while attending college at Cal Poly Pomona, Oliver worked as a summer intern at Aerospace, eventually returning to become a full-time employee. He currently works on developing cutting-edge GPS receivers and other satellite communication systems. About the Herndon Competition, Oliver says, "Having the opportunity to participate in the competition before I even took a single college course changed my career path. I knew I wanted to be an engineer but did not know exactly what that meant. My experience at Aerospace cemented that decision."
As this year's participants and winners demonstrate, Herndon's legacy continues to inspire and support future generations of scientists, engineers, and dreamers.
Here is a recap of this year's events:
Chantilly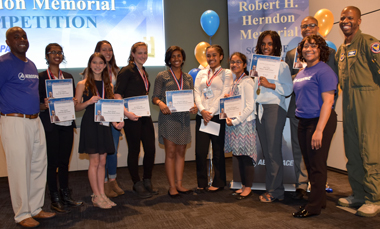 National Systems Senior Vice President Cathy Steele welcomed students to the East Coast competition, which drew competitors from more than 30 schools. Highlights of the day included a keynote address by Lt. Col. Kenyatta Ruffin of USAF Headquarters, who spoke on "Inspiring Today's Innovator's for Tomorrow's Challenges."
The tabletop demonstrations featured titles that seemed to leap from the pages of an academic journal or patent application: "The Effect of Shape on Skyscraper Wind Turbulence," "High-Performance, Low-Cost Silicon-Based Solar-Blind Detector Systems for Missile Plume Detection," "The Magnus Effect as a Method of Propulsion," to name a few.
El Segundo
The West Coast competition kicked off with opening remarks from Vice President and Chief Information Officer, Tammy Choy and senior project engineer and competition chair, Carl Billingsley.  President and CEO Steve Isakowitz delivered the keynote at the awards ceremony, reminding the kids that "Space is cool." He also talked about the exciting developments in the areas of space entrepreneurship, space warfare, and space exploration.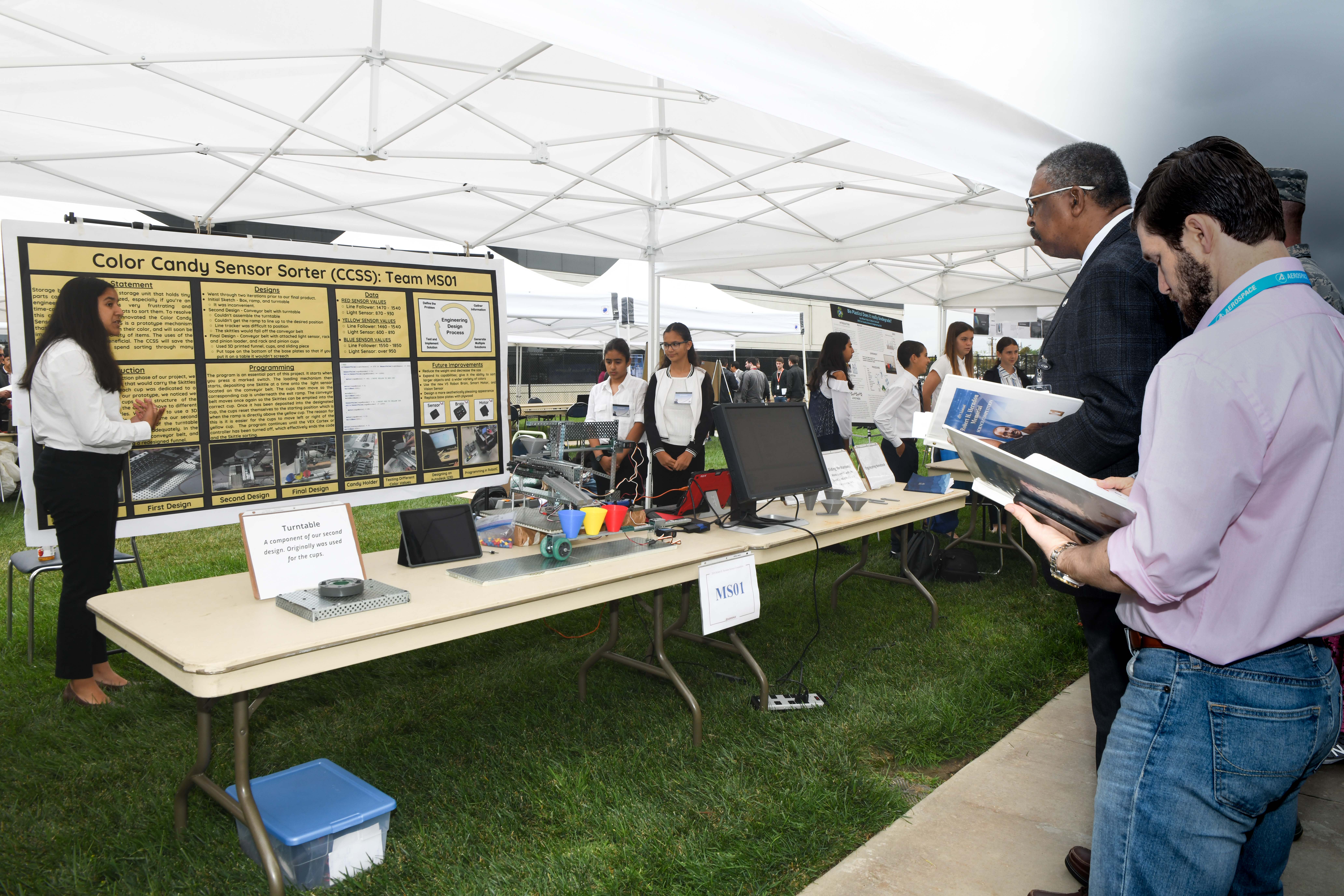 The students presented their ideas for tackling current and future challenges through technologies involving optical sensors, passive energy storage, ionic thrusters, autonomous nanobots, color-based candy sorting (a must-have for any engineering lab), fuel-efficient cars, and more.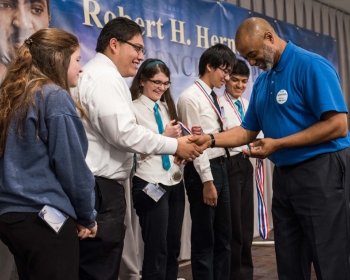 Competing for the first time was the Girls Academic Leadership Academy, a new STEM-centered all-girls school in the L.A. Unified School District. Principal Dr. Elizabeth Hicks was pleased to participate, noting that the program gives students an opportunity to work independently and gain practical experience. "It helps them explore a real-life problem and look at all dimensions of it in a way they couldn't do in a classroom," she said
Excitement and pride was palatable in the room as the list of winners were announced.  Billingsley later said he was very impressed by "the ingenuity and creativity displayed by the projects," adding, "They're trying to solve problems I didn't even know existed." He also praised the dedication and enthusiasm of the numerous Aerospace volunteers who worked diligently behind the scenes to ensure a successful event.
List of 2018 Student Winners
Chantilly Experiment Competition
High School:
Kathleen Love and Sydney Jones (Yorktown), "Prototype of a Filter-less Water Purification System Using CO2"

Sreya Vangara (Poolesville), "Novel Detection Method of Subatomic-Scale Motion through Plasmonic Oscillations"

Kobi Robinson and Danielle Jefferson (Heart Christian School), "Wait, Watch Out: Using Sonar for the Vision Impaired"
Middle School:
Kaylee Board (Williamsburg), "The Effect of Bacteria and Number of Origami Star Points on Amount of Electricity Conducted"
Pratyusha Mandal (Takoma Park), "Fabrication, Optimization, and Characterization of Natural Dye Sensitized Solar Cells"
Alexandra Fall (Swanson), "Radiation Electrification!"
Chantilly Essay Competition
High School:
Chase Reid (Tatnall School), "A Machine Learning Approach for the Classification of Clinically Actionable Genetic Mutations Using Deep Learning"

Sreya Vangara (Poolesville), "Novel Detection Method of Subatomic-Scale Motion through Plasmonic Oscillations"
Middle School:
Mera Seifu (Glasgow), "Why We Shouldn't Ignore Pollution"
Nardos Demilew (Glasgow), "The Negative Consequences of an AI Dominated World"
El Segundo Experiment Competition
High School:
Shannon Lamb, Ava Basileo, Smit Rajyaguru, Cristopher Barillas, Ray Sakanoue (Sherman Oaks Center for Enriched Studies), "Nanofacturing: The Process of Programming Claytronics"
Shrenil Sharma, Hayden Crabbs, Carson Doering, Nolan Young, Matthew Tritasavit (El Segundo), "The UN-Flippable Enforcer"
(Tie) Nery Arevalos, Manuel Angeles, Bryan Chuc, Lizandro Franco, Jesse Velazquez (Lawndale),"Brothereye"; and Anh Tran, Bryant Nguyen, Jose Frausto, Ana Munoz Escobar, Thanh Derek Nguyen (Leuzinger)
Middle School:
Graciela Arancibia, Sofia Arancibia, Kayla Kossoff, Zoe Ramirez, Vaidehi Zala (Sherman Oaks Center for Enriched Studies), "Color Candy Sensor Sorter"
Michael Consolazio, Patrick Dassm, Winston Bird, Harrison Fischer-Huber, Maya Waller (Dana), "Washing Water with Robotic Arms"
Zakana Zenuali, Kahlan Hart, Brianna Santalunea, Liliana Ralph (J.H. Hull), "Bio Plastics! Does it Really Biodegrade?"
El Segundo Essay Competition
High School:
Anoushka Gupta (West Torrance), "The Future of Fusion in Nuclear Technology" (previous winner)
Omar Rashad (West Torrance), "The Parkinson's Effect" (previous winner)
Samuel Hirsch (DaVinci Science), "Condoms Limited Use as a Prevention Method for Anal Cancer"
Middle School:
Anhad Singh (Bert Lynn), "From Human Learning to Machine Learning" (previous winner)
Joseph Beard (Dana), "A Safe and Efficient Way to Use Nuclear Waste as Energy"
Calvin Nitsos (Dana), "Quantum Computing"