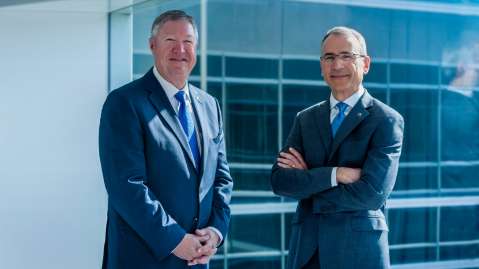 A Year In Growth
In another year of dynamic change, The Aerospace Corporation leveraged its vast expertise to address a wide range of challenges and opportunities confronting its nationwide customers across every sector of the space enterprise.
Support Where It's Needed Most
Aerospace works side by side with our customers wherever they are, staffing two dozen locations across 11 states, anchored by our two largest campuses, in El Segundo, Calif., and Chantilly, Va.

This past year saw growth across Aerospace's network of campuses, including continued expansion at our Colorado Springs, Albuquerque, and Huntsville locations.

MISSION SUCCESS 

There's no room for failure when it comes to critical national security space missions.

 

As it has throughout its history, Aerospace continues to play a trusted role in providing the technical expertise and diligence to ensure mission success for all types of launches.

 

OUTPACING THE THREAT

Threats to critical space assets continue to multiply, with adversaries large and small looking for new ways to disrupt satellites on orbit.

 

Our nation's security depends on a robust response, and Aerospace is playing a key role in helping our partners outpace the threat by developing new technologies and ideas that will help build a more resilient space architecture.

 

INNOVATION

Advancing state-of-the-art technologies has long been at the core of Aerospace's mission, but the rapidly evolving space landscape requires us to push the speed of innovation even further.

 

Through initiatives like iLab, Aerospace is fostering a culture of innovation that encourages risk-taking and creative thinking. Our xLab is a hub of rapid prototyping expertise, utilizing the latest techniques to quickly insert the latest technologies into the space enterprise.

 

SPACE POLICY

Making sense of this complex time requires the right mix of expertise and vision to identify the key dynamics that will drive the space enterprise forward.

 

Experts at Aerospace's Center for Space Policy and Strategy are on the front lines of this rapidly approaching future, providing trustworthy analyses and critical insights to inform and shape decision-making at the highest levels of government and industry.

 

 

 
The Brightest Minds of Today
Solving the nation's hardest problems means recruiting and retaining the brightest minds available.

Our collective expertise spans from math, chemistry, and physics to mechanical, aeronautical, and electrical engineering, drawn from private industry, academia, and government talent pools. More than two-thirds of Aerospace's technical staff holds an advanced degree, with 780 holding a Ph.D. in their respective fields.

Together, Aerospace's technical staff have an average of 26 years of technical experience, with many finding a long-term home with the company to grow their careers and maximize their impact.
About The Aerospace Corporation
Space News Happens Fast
Don't miss out on the latest from Aerospace