Commercial Space Futures
Through Commercial Space Futures, Aerospace brings its deep technical expertise and independent insight to help the nation solve challenges and outpace threats in the rapidly evolving space environment. Commercial Space Futures is an extension of our existing support to the U.S. space enterprise to maximize U.S. government access to and incorporation of commercial space capabilities and technologies.  
Why Digital Engineering Is Essential to the Future of Space
Aerospace is advancing the concepts, capabilities, and strategies that leverage an integrated digital approach, enabling opportunities to rethink what's possible when solving the hardest problems of the modern space enterprise.
The Space Safety Institute at The Aerospace Corporation
Aerospace is establishing a Space Safety Institute to deliver independent technical support and assessments to enhance the safety of space and space-related activities for government, commercial, and international customers.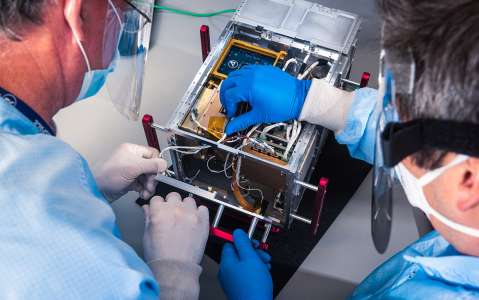 Slingshot Platform Fast-Tracks Space Systems Using Modularity and Open Standards
Aerospace's Slingshot looks to advance on-orbit experiments using modular and autonomous technologies on next-generation satellite systems. The CubeSat platform aligns with the principles of Continuous Production Agility (CPA), which leverages increased production and launch tempo rates, interoperability standards and open architecture to enable greater agility and resiliency for space systems.
Space News Happens Fast
Don't miss out on the latest from Aerospace