The Strategic Foresighting Team within The Aerospace Corporation's Center for Space Policy and Strategy (CSPS) is dedicated to expanding and advancing the futures mindset for an abundant space enterprise. Through systematic approaches in thinking about possible futures, we help empower decision-makers to shape aspirational futures starting today. 
The goal of foresight is not to predict the future, but to ensure we have adequately challenged our assumptions and are prepared for a variety of possible outcomes in the face of uncertainty.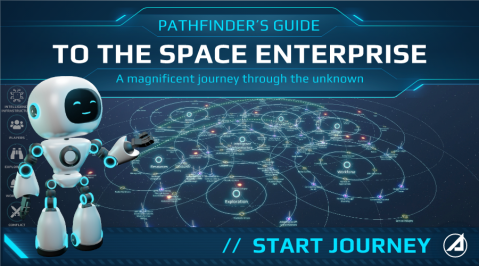 Aerospace Presents: Pathfinder's Guide to the Space Enterprise
The budding, complex, mighty, and vibrant space ecosystem is on a very exciting journey. This map helps to reflect on the potential concerns, pitfalls, hype, underdogs, hopes, dreams, treasures and surprises that may lie ahead.

Take the magnificent journey through the unknown.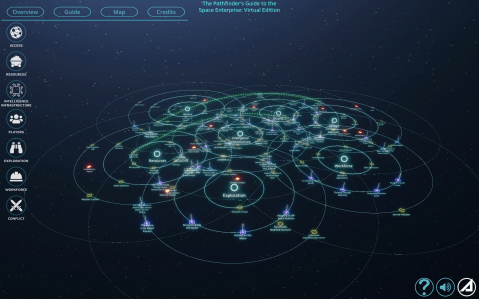 Pathfinder's Guide to the Space Enterprise: Digital Edition!
Our team has taken our original futures map and transformed it into an experiential exploration of the future! Inside you'll find all the great content from Pathfinder's Guide plus new interviews from experts, space enthusiasts, and even THE future providing their novel perspectives about what the future might look like, all in an interactive format. Are you ready to take a trip around the future space enterprise and explore the possibilities it might hold? Click here to enter a world like no other and see what inspires you to reach for the stars!

(Please note it may take a few moments for the map to load, but we promise it'll be well worth your time. This beta version is only supported on desktop applications at this time. Mobile versions will be available soon. Thanks for your patience!)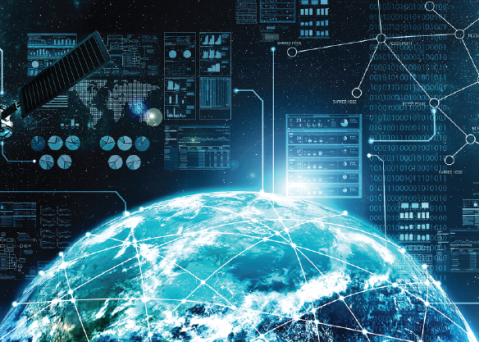 Strategic Foresight: Addressing Uncertainty in Long-Term Strategic Planning
The space domain and the policy issues surrounding it provide a key opportunity for the application of strategic foresight. Strategic foresight can help because it takes a holistic approach to considering and preparing for what is possible instead of relying on existing conditions and trends to predict the future. This paper, as part of the Space Agenda 2021 collection, explores these themes.
The Space Policy Show: Constructive Visioning for the Space Enterprise
What's the difference between envisioning your preferred future and merely reacting? How can the space enterprise bend to take advantage of opportunities today that improve humanity tomorrow? Join Aerospace's Kara Cunzeman, Lead Futurist, as she asks these questions to the godfather of strategic futures, Jim Dator, as he discusses his four archetypes representing alternative scenarios and how they apply to the future of space.
The Space Policy Show: Futures Mapping for Space 2021
What critical uncertainties will shape the future of space? Is it possible to control our own futures by better understanding the cross-cutting influences we face today? Join Kara Cunzeman of the Foresight Collective and Lead Futurist at The Aerospace Corporation as she talks to Colleen Stover about the benefits of foresighting for the future and the near-term of space, and introduces the recently released Pathfinder's Guide to the Space Enterprise to answer questions on space economies, scientific discoveries and more.
The Space Policy Show: Strategic Foresight Panel on Possibilities of Future Space Enterprise
The Space Policy Show is excited to hear from this panel of strategic foresight experts, featuring special guests Jake Sotiriadis (AFWIC), Josh Kerbel (NIU), and host Kara Cunzeman (Aerospace). What can we learn from historically complex problem sets in national security? How do we use strategic foresight to anticipate threats?
Contact the Strategic Foresighting Team
Reach out to us today to learn more about the future of space!