Every major space asset is built, tested, launched, and controlled by one or more ground-based facilities. Satellite processing facilities, environmental test chambers, test stands, mobile launchers, ground control stations, command and control centers, and data processing centers are integral parts of the space enterprise.
While many variables can affect the success of a facility or infrastructure project, one often overlooked element is the project delivery type. The approach or method used to organize all the components needed to design and build a facility can include management of contractors, architects, and consultants; sequencing of operations; and the actual execution of design and construction.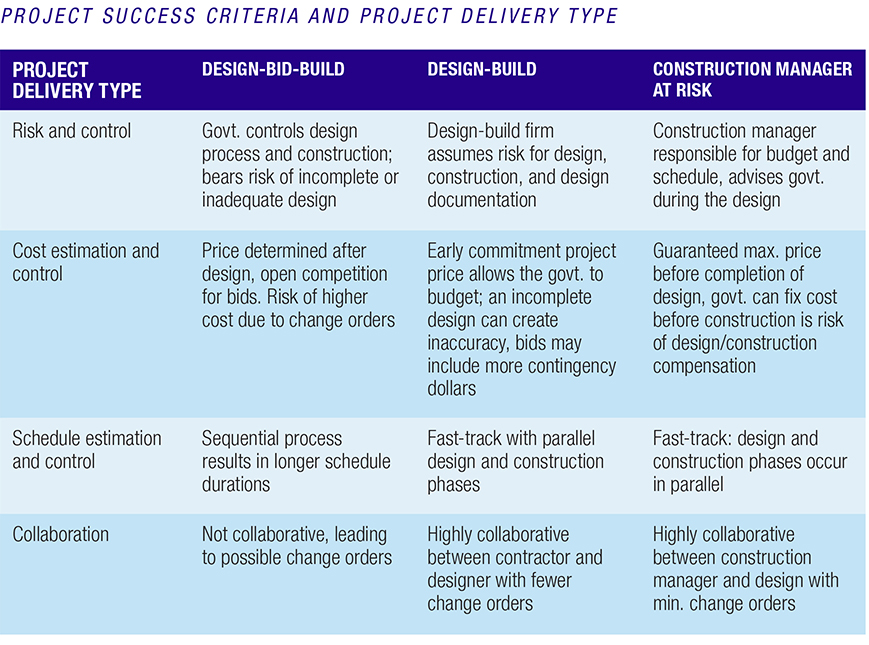 There are decisions that can affect the cost and schedule for successful development and delivery, as well as the efficiency of operations once the facility is complete. How much collaboration exists between the team that designs the facility and the team that builds it? Who is responsible for design issues—contractors, designers, or the government agency that owns the facility? Can construction begin while final designs are ongoing? How many contract efforts must the government agency manage?
Choosing the right project delivery type allows a space program's ground assets to deliver timely, cost-effective support for the operational life. Choosing the wrong project delivery type can undermine a program's efficacy and allow an overlooked detail on the ground to ultimately affect mission success.
The three major project delivery types are: Design-Bid-Build (DBB), Design-Build (DB), and Construction Manager at Risk (CMAR).
While DBB is the most common project delivery type, some state and federal agencies are beginning to more aggressively explore the potential benefits of DB and CMAR methods depending on the nature of the project. Each one results in variable outcomes in four areas:
•  Number of contracts executed by the facility owner (i.e., the government agency)
•  Roles and responsibilities of each participant in the facility project
•  Point at which the contractor joins the project
•  Ability to conduct design and construction activities simultaneously
Mission success is dependent on the success of the total system architecture.
For more information contact
Vera L. Scheidlinger, 626.664.0093, vera.l.scheidlinger@aero.org.
REFERENCE
Aerospace report No. OTR20200619
https://aerospace.org/paper/ground-getting-space-right-construction-pro…