Market dynamics in the microelectronics industrial base are so volatile that even within a few months information that was late-breaking news is overcome by new developments. 
Five noteworthy areas of development include:
•  government investments
•  major industry developments
•  government policy engagement on areas including trust
•  government technology engagements and maturation
•  government-owned fabrication source developments 
The U.S. government continues to ensure fabrication capabilities exist for strategic chip manufacturing needs across the board. There is a dependence on key integrated circuits for several systems, so monitoring of microelectronics developments continues to seek, adapt, and devise resilient and cost-effective methods to maintain critical parts needs.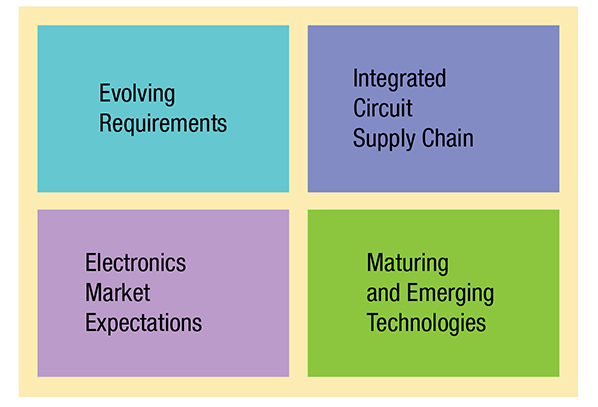 Additional funding will likely be required for development of alternative domestic suppliers and evaluations of the use of alternate-grade parts such as avionics-grade, automotive, and commercial parts with the associated risks for radiation and non-trust. Ensuring microelectronic foundries of last resort and maintaining critical capabilities for future systems are part of the trade space. 
As a part of the HiRev (High Reliability Electronics Virtual) program, The Aerospace Corporation, working with the Air Force Research Laboratories and Defense Microelectronics Activity, has collected trending data and developed a range of mitigation options with future possible contingencies. Trends and technology forecast results for digital, analog, mixed signals, and power components are detailed in a recently published report.1
1TOR-2019-01585, HiRev 2019 Microelectronic Technology Forecast with a Focus on Space Applications Needs, September 17, 2019
Dynamic and rapidly evolving landscapes present new challenges and opportunities for high-reliability assurance that requires tracking for future trends.
Subscribe to Getting It Right
Want Getting It Right delivered to your inbox quarterly?