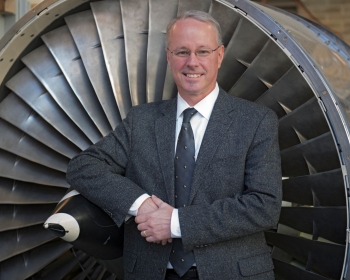 This is a newly created position based in El Segundo, Calif., reporting directly to Aerospace's CEO.
"David's passion for new space, innovation, and experience with our most senior customers are critical as we work to outpace the threat in space," said Steve Isakowitz, Aerospace president and CEO. "His experience developing agile space solutions – including rapid prototyping and new space demonstrations – across the academic, civil, commercial, and national security space enterprise are a perfect match for the leadership we need from our chief technologist."
Miller joins Aerospace from the Massachusetts Institute of Technology (MIT), where he most recently held the position of director of the Space Systems Laboratory and the Jerome C. Hunsaker Professor in the Department of Aeronautics and Astronautics.  At MIT, Miller's work focused on developing ideas for spacecraft that can repair and upgrade satellites with multi-mission functions through space operations and docking using standard interfaces. He also helped develop a technique to control satellite movement, without propellant, using high temperature super-conducting electromagnets.
As Chief Technology Officer, Miller will provide vital leadership for the company's growing prototyping efforts through his supervision of Aerospace's Experiments Lab, or xLab, previously the Technology Demonstration Center. He will also oversee Aerospace's Innovation Lab (iLab) and the company's Science & Technology Hubs.
Earlier in his career, Miller served five years – two as vice chair – on the Air Force Scientific Advisory Board, a federal advisory committee that provides independent counsel on science and technology matters relating to the Air Force's mission. He also served two-and-a-half years as NASA's Chief Technologist at its headquarters in Washington, DC. Miller has been involved with and chaired several key panels and committees to include the James Webb Space Telescope Product Integrity Team and Exoplanet Technology Assessment Committee. He is an AIAA Fellow and formerly a distinguished visiting scientist at NASA's Jet Propulsion Laboratory.  Miller earned his undergraduate and graduate degrees from MIT, and has been a member of its faculty since 1997.
About The Aerospace Corporation
The Aerospace Corporation is a national nonprofit corporation that operates a federally funded research and development center and has more than 4,600 employees. With major locations in El Segundo, California; Albuquerque, New Mexico; Colorado Springs, Colorado; and the Washington, D.C. region, Aerospace addresses complex problems across the space enterprise and other areas of national and international significance through agility, innovation, and objective technical leadership. For more information, visit www.aerospace.org. Follow us on Twitter: @AerospaceCorp.
Media Inquiries
Media Relations
Corporate Communications and Public Affairs Division