Editor's Note: "Due to unforeseen developments, Diaz was not able to participate as a crew member in the most recent NASA HERA mission. He did, however, complete the three-week pre-mission training as the assigned HERA mission Commander. Diaz has been asked by NASA to be a part of the next HERA campaign, and looks forward to supporting HERA and other analog missions in the near future."
Human analog missions are vital to expanding the understanding of the space environment for future missions and exploration. As part of NASA's Human Exploration Research Analog (HERA), Aerospace's Dr. Alejandro R. Diaz will have a unique opportunity to experience a simulated space mission and better understand planned operational capabilities and human systems interactions through first-hand experience.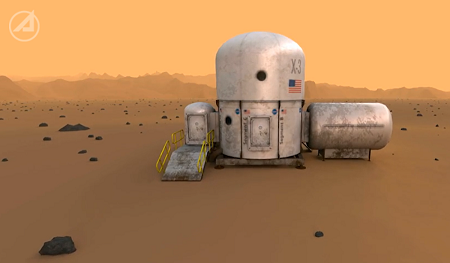 During the program, Diaz and three other participants will live and work in isolation for 45 days in the three-story habitat at Johnson Space Center in Houston designed to study confinement and remote conditions in human space exploration missions.
The study will focus on behavioral health, human factors, exploration medical capabilities and communication and autonomy. The HERA environment is designed to replicate operational scenarios and conditions analogous to space and, among other things, will give researchers a better understanding of crew timelines and human performance capabilities.
As a Senior Project Leader with the Human Exploration & Spaceflight Division at Aerospace, Diaz is currently supporting NASA's Human Landing Systems (HLS) program, where his work focuses on human interactions with displays & controls, audio, video and lighting systems.
"Participating in these types of analog missions helps position Aerospace as a leader in human space operations capability," said Diaz. "I'm excited to see how I will be able to adapt to this isolated and confined environment. I'm also excited about the opportunity to learn from leading experts in crew operations and deep space habitat research. I plan to use this new knowledge to continue providing insight to the HLS provider."
Growing up, Diaz dreamed of becoming an astronaut – a goal that has helped to shape his career. As a semifinalist and finalist in two NASA astronaut selection cycles, he proved to be a great candidate for analog missions.
"Apart from wanting to become an astronaut, I have a broader goal, which is to contribute to human space exploration," said Diaz. "I think I have been able to do that throughout my career by supporting programs like the International Space Station, the Starliner program and my current program here at Aerospace supporting HLS."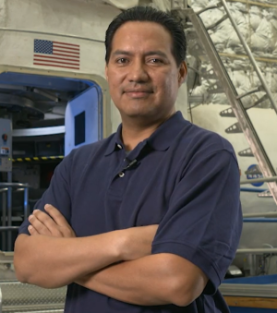 Diaz has previously completed four 15-day analog missions at the Mars Desert Research Station (MDRS) in Utah. But at 45 days, the HERA mission is set to be his longest.
"My professional and analog experiences have provided me with a good appreciation for what astronauts experience when interacting with hardware interfaces both inside and outside the spacecraft," Diaz said. "I believe this is valuable insight that I bring to HERA that will allow me to contribute to this simulated deep space mission."
Diaz also believes his experience in HERA will contribute to his work at NASA and Aerospace once the mission is complete. Participating in analog missions helps Aerospace advance the field of human space exploration.
"Analog missions are so important," said Jon Cowart, Systems Director in Aerospace's Human Exploration & Spaceflight Division. "You learn so much about how people react in such an environment, and perhaps more importantly, you learn the limitations. These missions are critical to the success of human missions to space, and HERA offers an exciting opportunity learn even more."
Recently, Aerospace's Ashley Kowalski, Project Leader in the Global Partnerships, embarked on another analog mission, Scientific International Research in Unique Terrestrial Station (SIRIUS). The eight-month program is being conducted in isolation with an international crew of six people and will include nearly 70 studies to help further the understanding of the effects of confinement and isolation on human psychology, physiology and team dynamics. Kowalski recently provided an update on her experience.
"I really feel so supported by Aerospace, and I am just so extremely proud to work there," wrote Kowalski, who received a photo from Aerospace leadership, friends and colleagues partway into her mission. "I feel like I have a team cheering me on who is interested in seeing me succeed, a team who recognizes the importance of the SIRIUS-21 mission and a team that simultaneously understands the difficulties and challenges of this type of mission."
Like HERA, SIRIUS will provide key pieces of information for human missions to the Moon and other long-duration missions, such as to Mars.
In late November, Kowalski will be joining five other Aerospace researchers in the first-ever all-Aerospace analog mission at the Mars Desert Research Station. Diaz is serving as an advisor for the team as well as a backup crew member. As a part of the Civil System Group's Advanced Human Exploration strategic initiative, they will work on detailed timelines to understand the demands on the crew and how to proportionally schedule time for spacewalks, research, meals, sleep and habitat maintenance.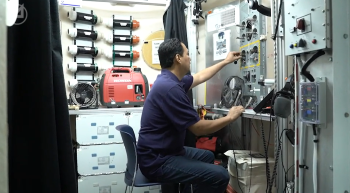 For Diaz, who is currently undergoing HERA's pre-mission training before entering isolation at the end of May, analog missions are an important part of the research process and strengthen Aerospace's ability to continue shaping the future of space.
"Having our employees experience first-hand the intricacies involved with doing this type of simulated work is very beneficial," said Diaz. "Aerospace will be able to provide new and advanced human space exploration insight to support NASA programs."