The Aerospace Corporation supported the successful delivery of the fifth GPS III space vehicle (SV05) into a medium Earth transfer orbit. Nicknamed "Armstrong" in honor of Neil Armstrong, the space asset lifted off on a SpaceX Falcon 9-123 rocket on June 17 at 12:09 pm (EDT) from Launch Complex-40 at Cape Canaveral Space Force Station (CCSFS).
This was unique and historic mission inasmuch as it was the first time a previously flown booster was used for a National Security Space Launch (NSSL). In fact, it was the same booster that flew first on the GPS III-4 mission on Nov. 5, 2020. Aerospace had been at the forefront in defining standards and criteria for reuse and our team was actively engaged in reuse non-recurring design validation (NRDV). This was a huge effort as it validated several months of reuse NRDV by the combined U.S. government and Aerospace team. The Aerospace effort on reuse will enable the U.S. Space Force to continue to leverage reusability to increase reliability, responsiveness, flexibility, and affordability while maintaining an unprecedented record of mission success.
GPS III is the newest generation of GPS satellites designed and built to deliver positioning, navigation and timing (PNT) information with three times the accuracy and up to eight times the anti-jamming capability required of its predecessor. This is crucial for warfighters, who will benefit immensely from the increased protection and decreased mission interruption due to adversary spoofing and jamming once fully operational. The more powerful signals and improved accuracy also enhance the efficacy of GPS, which is utilized by more than four billion users and supports critical missions worldwide.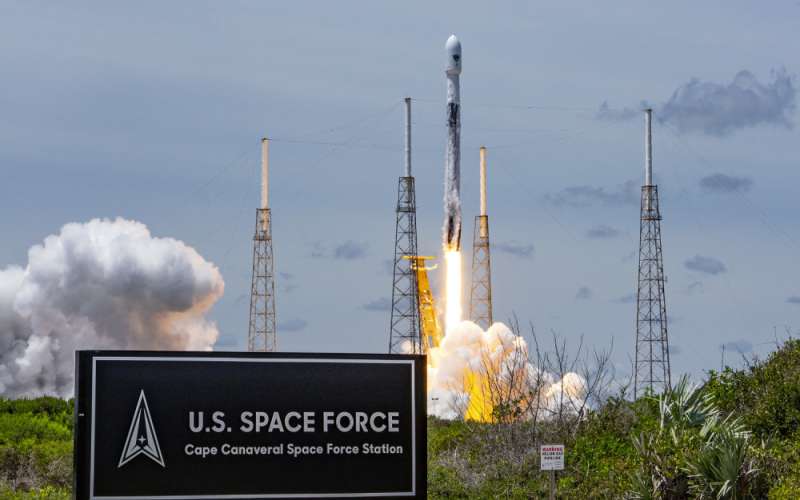 The Aerospace team performed outstanding work in the days leading up to launch adjudicating several issues, including but not limited to, post static fire engine inspections to exonerate a suspect data signature, Hardware in the Loop (HITL) test configuration, and ground processing and integration issues. Quick action by the Falcon and Mission Management team allowed these issues to be solved accurately and efficiently, resulting in a successful and on-time launch.
Building on the successful COVID-19-era campaigns of GPS III-03 and GPS III-04, the teams leveraged established COVID protocols and distributed locations to ensure mission success with minimized risk to the team. The significant achievements of the team were highlighted by Space Force and Aerospace leadership, acknowledging the  outstanding work in demonstrating resilience by working long hours to mitigate emerging issues – maintaining technical excellence and dedication to mission success. As with all missions, the Aerospace team will be performing a detailed Post Flight Review in July to ensure significant observations are adjudicated prior to the next NSS Launch.
Watch the launch below: