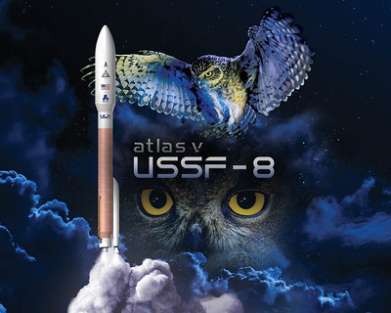 A United Launch Alliance (ULA) Atlas V rocket lifted off from Space Launch Complex-41 at Cape Canaveral Space Force Station, Florida on Jan. 21, successfully delivering the fifth and sixth satellites to the Geosynchronous Space Situational Awareness Program (GSSAP) network for the United States Space Force.
The USSF-8 mission to geosynchronous orbit (GEO) was the first and only planned use of an Atlas V 511 launch vehicle configuration. The 511 launch vehicle is a unique configuration that uses one of the short five-meter payload fairings and only one strap-on solid rocket booster along with a single engine Centaur III upper stage.
The mission experienced no significant issues and lasted approximately six hours and 45 minutes from lift-off to final space vehicle separation. The launch marked the 91st successful launch of an Atlas V rocket, the 148th launch for ULA, the first 511 configuration vehicle and the first Atlas V mission of 2022.
The USSF-8 mission payload was comprised of two space vehicles on a payload provided dispenser. The satellites are a part of the GSSAP network, which is a space-based capability operating in the near-GEO regime supporting U.S. Strategic Command space surveillance operations as a dedicated Space Surveillance Network (SSN) sensor.
GSSAP satellites collect space situational awareness data allowing for more accurate tracking and characterization of man-made orbiting objects. From near-GEO, it has a clear, unobstructed and distinct vantage point for viewing Resident Space Objects (RSOs) without the interruption of weather or the atmospheric distortion that can limit ground-based systems.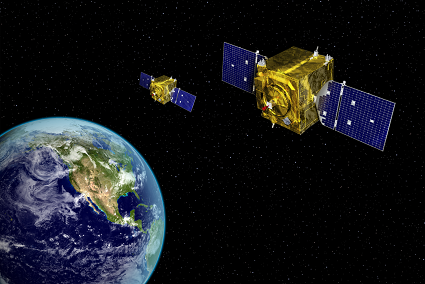 Data from GSSAP uniquely contributes to timely and accurate orbital predictions, enhancing our knowledge of the GEO environment, and further enabling space flight safety to include satellite collision avoidance.
As with prior National Security Space missions, The Aerospace Corporation conducted independent analyses and evaluations of the flight systems, working with the USSF to augment ULA's mission assurance process to ensure the continued National Security Space Launch (NSSL) program's legacy of 100 percent mission success. Special attention was placed on first flight hardware items implemented for performance improvements and/or cost savings.
"My sincere thanks to our SSC and Aerospace teammates on the first-ever Atlas V 511 launch. This USSF-8 mission enhances our nation's space situational awareness capabilities, providing more accurate tracking and characterization of orbiting objects," said Col. Erin Gulden, USSF-8 mission director and Launch Enterprise Atlas and Delta Division Chief. "This wouldn't be possible without [their] personal commitment and dedication – immediately following STP-3, through the holidays and continued pandemic challenges. Thanks to the team for everything they do to support our Nation. It remains my honor to serve with such an amazing team."
The next Atlas V mission will be NASA's GOES-T in early March and the next Atlas V NSSL mission is USSF-12 in early April.
Watch the full launch below: