The increasing reliance on space-based capabilities is driving the need to develop solutions that can address the rising likelihood of in-orbit challenges, including those stemming from competition and even potential conflict in the space environment. To maintain and strengthen the nation's leadership in space, The Aerospace Corporation is actively supporting its government partners to identify collaborative strategies and tools to bolster resiliency faster than before.
Moonlighter, a from-scratch CubeSat, will empower the national security space community to test and refine cybersecurity tactics and techniques. 
One example could be Moonlighter, a cyber test platform developed in partnership with Space Systems Command (SSC) and the Air Force Research Laboratory. Launched on June 5, 2023 from Cape Canaveral on SpX-28, this 3U CubeSat will provide the national security space community with the ability to test and learn where it really counts: real-time in-orbit.
"It is more critical than ever to channel efforts that help build resiliency among our current and future space systems," said Col. Kenneth Decker, director of Engineering, Space Domain Awareness and Combat Power (SDACP); and Battle Management Command, Control, and Communications (BMC3). "Moonlighter will help improve our understanding of what it takes for our spacecraft to successfully navigate the congested and contested space environment."
From the Lab to LEO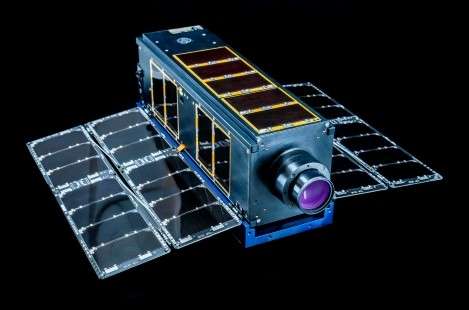 Cybersecurity testing for space has usually occurred in the lab or in a simulation activity on the ground. Applying cyber defense theories and approaches in the actual space domain has been restricted by the limited availability of suitable already-existing vehicles in that environment.
Understanding the value that a real in-space system could provide in regard to this gap, teams from across Aerospace came together to design and develop Moonlighter.
Since the CubeSat was built from the ground up, engineers were able to intentionally design the satellite for cyber testing activities.
The testbed and its accompanying ground system are fully reprogrammable, presenting a canvas to experiment and conduct a wide span of exercises. On July 6, Moonlighter was deployed from the International Space Station, and will soon enable space operators to replicate different cyberattack scenarios, analyze how the system is affected, and recover the CubeSat—all without risking the health and functionality of the vehicle.
'"The ultimate goal with Moonlighter is iterating on these things, not just do it once and be done," said Aaron Myrick, a Project Leader in Aerospace's Space Domain Superiority Directorate. "We want to try out tactics, techniques, and procedures to see what works and what doesn't. And if it doesn't work, we can make tweaks and adjust how we approach a problem to keep our space systems safe and resilient."
Finding Innovation Through Competitive Collaboration
One major upcoming event that Moonlighter will be a part of is Hack-A-Sat 4, an annual space security challenge jointly hosted by the U.S. Air Force and Space Force. Aerospace has supported the competition, which encourages security researchers of all levels and the broader hacking community to participate in finding novel solutions, since its inaugural year in 2020.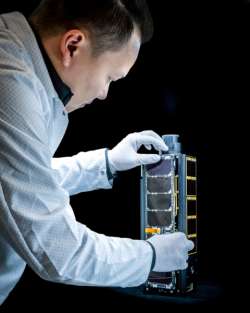 In the past, teams featuring some of the top cybersecurity talent have been presented complex hacking challenges to solve via physical flatsat hardware or digital twin simulation. However, this year's finalist teams can look forward to hacking in literal space with Moonlighter.
The satellite is a milestone for advancing national security space efforts: being the first on-orbit asset for a Hack-A-Sat competition, and the first-ever in-space platform for a Capture-the-Flag exercise. With Moonlighter as the final arena for the Hack-A-Sat competition, team members will be able to problem-solve and innovate together, with their actions and outcomes affecting the CubeSat in real-time.
"Hack-A-Sat is a game but it's also a way for us to advance how cybersecurity is looked at for space systems in a competitive but real manner," said Myrick. "This is a chance for us to put hard problems in front of these teams and look to see how they would approach and address them. That opportunity for observation can help inform us on what it would take to mitigate those kinds of issues."
The public will be able to tune in for periodic updates as the five finalist teams experiment and apply cybersecurity methodologies to the Moonlighter platform. In addition to the lessons learned during Hack-A-Sat, the knowledge and information gathered throughout the satellite's post-competition days will be made available to the government and wider community.
Ultimately, Moonlighter is paving the way for spacecraft and their supporting architectures to display greater resiliency. During the satellite's time in low Earth orbit, operators and other enterprise stakeholders will improve their awareness and evolve existing best practices to successfully defend our nation's space systems from potential threats.