Increased activities in space require moving faster, lighter and with higher precision. While space communications have traditionally relied on transmitting information via radio waves, The Aerospace Corporation is facilitating laser communication (lasercom) research and development to equip customers for the future.
Previously, two AeroCubes successfully transmitted data via lasercom systems for the first time—a milestone that displayed the viability and unlocked further possibilities of space-to-ground optical communications utilizing lasercom technology. Lasercom enables more data to be transmitted at quicker speeds, a quality that will be particularly valuable for intersatellite operations, cislunar missions and beyond.
An engineering team at Aerospace is now advancing the capabilities and adoption of lasercom, also known as optical communication, by transitioning traditionally larger terminal technology into a smaller form. Known as the Gbps Lasercom Innovative Nano Terminal (GLINT), the compact hardware prototype—responsible for receiving and sending data through laser pointing, acquisition and tracking—enables faster data speeds at a lower cost and impact to the spacecraft host.
"Space-based laser communication has been recognized as a future technology, promising high data rates, while CubeSats have been used as vehicles for testing," said Joel Gallegos, Associate Member of the Technical Staff in Aerospace's Vehicle Systems Division and the project Principal Investigator. "GLINT started out as a proof of concept to illustrate that it's possible to replicate the functionalities of a bigger lasercom terminal on a miniaturized scale."
Smaller and Speedier
One of the biggest challenges for the GLINT team was its approach towards transferring lasercom technology—usually found onboard larger spacecraft—into a CubeSat-friendly form that was still effective. Prior lasercom-equipped CubeSats have commonly relied on reaction wheels and thrusters to passively point at a target. This method of maneuvering has created opportunities for improved accuracy and data rates.
The GLINT team sought to develop a mini lasercom that could achieve a higher level of pointing accuracy while also abiding to the size of a 1U CubeSat. The solution involved starting from the traditional lasercom terminal structure and introducing novel technology.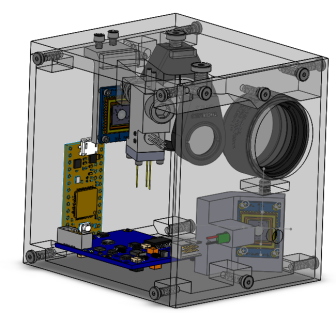 A large lasercom terminal uses a camera and quad detector to acquire and track its target. While GLINT utilizes a quad detector in similar nature, the team swapped the camera with a microelectromechanical systems (MEMS) mirror.
This alteration transforms the terminal into a significantly low size, weight and power (SWaP) design. GLINT features higher pointing accuracy and improved control, increasing the current CubeSat data rate to more than 10 times. The team has developed an initial prototype and is in the process of building a second version that will undergo testing and validation.
Advancing the Lasercom Field
At present, radio frequency communication has had a major role in the space domain due to the established infrastructure that supports this type of wireless communication. While the cost of laser communication has been one barrier in its usage, the team sees GLINT's low SWaP and expense as a way to combat this challenge and ultimately accelerate the proliferation of lasercom technology in space going forward.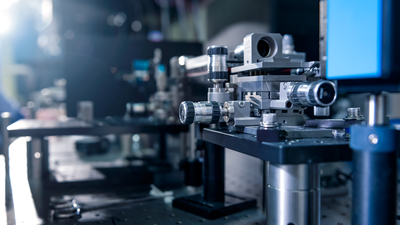 "There has been a lot of interest in lasercom, but it has been a challenge to achieve this level of maturity," said Dr. Austin Lee, Senior Engineer Specialist in Aerospace's Vehicle Systems Division. "The elevated technical performance and cost are key elements of GLINT. By staying small, the development, manufacturing and launch cost of GLINT is at a minimum—factors that will expedite the progression and expansion of lasercom for the space enterprise."
GLINT aligns with the continued interest in sophisticated CubeSat technologies and the need to move with increased agility and accuracy. With the space environment rapidly increasing, faster data rates will become necessary to meet multiple customer needs. The speed of lasercom also presents the ability to relay critical, timely communication in a more secure manner for near real-time decision-making.
"New laser communication technologies are gaining value and importance, and will continue to do so," said Gallegos. "Made possible through Aerospace's self-funded research program, GLINT has provided us the opportunity to explore this area of interest and demonstrate lasercom efforts that could possibly change and shape the future of space."