The Atlas V AEHF-6 mission, launched on March 26 from Cape Canaveral Air Force Station, was one of firsts and lasts. It was the final AEHF spacecraft to be delivered to orbit, capping the decade-long mission first launched in August 2010. All six AEHF satellites were launched on United Launch Alliance Atlas V rockets, providing the backbone for secure military communications in space. Similar to the previous AEHF mission, a second, much smaller spacecraft was also delivered to space. The TD-2 spacecraft was deployed from the EZ-2 cannister attached to the aft end of the upper stage after the second burn of the Centaur engine, slightly more than five hours before the AEHF spacecraft was delivered to orbit.
On the other end of the spectrum, this mission was the first launch for the United States Space Force. Continuing the standard of mission success established for Air Force launches, Aerospace exercised its comprehensive launch verification process to augment ULA's internal mission assurance process to ensure success for this inaugural flight.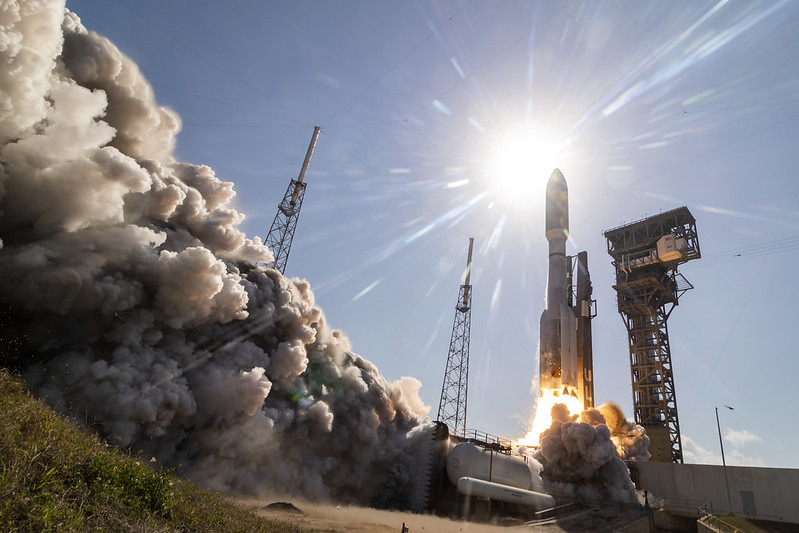 No mission is without challenges; however, this was likely the most uniquely challenged to date. With the threat associated with COVID-19 and the need to observe social distancing requirements, the launch and spacecraft teams needed to modify their standard processes to protect their people while retaining focus on mission success.
We don't do what we do for or by ourselves. Check out all the #Partnerships represented on the #AEHF6 logo painted on the #AtlasV payload faring. #BetterTogether @ulalaunch @AF_SMC @LockheedMartin @50thSpaceWing @AerospaceCorp @MITLL @LinQuestCorp @northropgrumman #SpaceReadiness pic.twitter.com/upA7yqjKXq

— United States Space Force (@SpaceForceDoD) March 26, 2020
For our part, Aerospace developed and implemented a highly distributed launch support concept of operations. The team deployed to CCAFS to support the launch was reduced by 45%. Similarly, the engineering support team required to be physically present at the STARS facility in El Segundo was also dramatically streamlined, with nearly 60% of the normal complement of personnel working remotely to ensure maximum separation between personnel. Given the extensive preparation and pre-coordination, the Aerospace support plan worked flawlessly, providing nearly seamless support to the USSF, and demonstrating Aerospace's commitment to mission success in any situation.
Watch the complete launch:
Written by Mark A. Brosmer, PhD, General Manager, Launch Operations Division, The Aerospace Corporation