The Aerospace Corporation: Who We Are
As an independent, nonprofit corporation operating the only FFRDC for the space enterprise, The Aerospace Corporation performs objective technical analyses and assessments for a variety of government, civil, and commercial customers.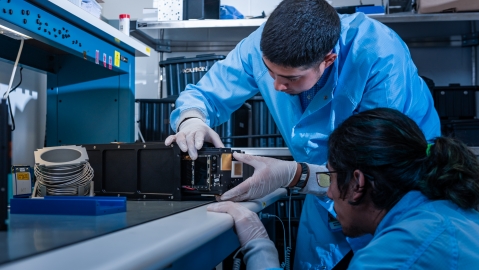 Make a Career Out of Making a Difference
Whether you're ensuring the resiliency of satellite systems or finding a better way to remove dangerous debris from orbit, your work at Aerospace will make a difference. From delivering world-class mission assurance to pioneering technological breakthroughs, you'll help build a safer, stronger future.
Bridging Connections Across the Space Enterprise
Reference Content
Framing the Future Commercial Human Spaceflight Environment
Summary

Aerospace supports the FAA in understanding how common best safety practices among well-established transportation sectors can be applied to commercial human spaceflight.

5>
Project Phantom: Furthering Space Exploration with Virtual and Augmented Reality
Summary

The Aerospace Corporation is investigating the potential for VR and AR technology to assist with space operations and change the way humans explore the solar system. 

5>
Aerospace Announces Significant Organizational Changes
Summary

The Aerospace Corporation announces significant changes to its organizational structure and several key hires, including a new senior vice president for the National Systems Group.

5>
Space News Happens Fast
Don't miss out on the latest from Aerospace