"I'm really not a fan of launching stuff in space that's not ready or vetted." 
Greg Wyler, founder of the space telecommunications company OneWeb, addressed these words to participants of the 33rd Annual Conference on Small Satellites in his keynote address. Held in Logan, Utah, this year's SmallSat conference was the biggest ever, with more than 3,400 participants from 45 countries, representing over 1,000 organizations.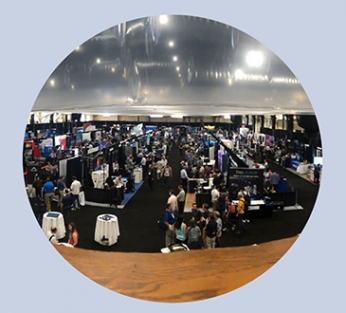 The theme of the conference was "Small Satellite Production," and this was reflected throughout the preconference workshop and during the main conference itself. There were multiple presentations on small satellite constellations, efficient build of multiple small satellites, and options for launching large numbers of small satellites. Carrie O'Quinn led a side session on The Aerospace Corporation's Launch Unit effort, which aims to make small satellite launch more efficient through standardization. 
These and other papers also explored small satellite mission assurance approaches. A CubeSat development team from New Mexico State University discussed its experience building its first CubeSat and advised developers to "test early and often" as well as to "create well-documented processes early, keep them updated, and follow them."  
Representatives from the Air Force Research Laboratory and the Space Dynamics Laboratory examined mission assurance for constraints-driven missions where schedule, cost, and technical constraints—rather than requirements—drive the mission scope. "Constraint-based missions require tailored systems engineering practices that prioritize demonstrated capability with lower performance over undemonstrated capability with higher performance," the team concluded.  
A presentation from Spaceflight Industries in the "Space Access" session discussed the unique challenges of bringing 64 satellites from multiple agencies together on a single rideshare launch. Other sessions included topics as diverse as communication, commercial mission assurance, technology transfer, and the CUMULOS mission.  
Since the first conference in 1987, the small satellite industry has grown from a small group of mostly research and development missions to a booming industry with military, civil, and commercial applications. Mission assurance approaches for small satellites have also evolved, but as Peter Beck told participants during a presentation on Rocket Lab's debris management approaches, "The safe and sustainable management of [space] must be a global priority."  
This story appears in the September 2019 issue of Getting It Right, Collaborating for Mission Success.
Subscribe to Getting It Right
Want Getting It Right delivered to your inbox quarterly?