Microelectronic device and circuit designers have long sought to combine the superior transport properties and design flexibility offered by bandgap engineering (as routinely practiced in compound semiconductors such as gallium arsenide and indium phosphide), with the high yield and low cost of conventional silicon (Si) fabrication. With the introduction of epitaxial silicon germanium (SiGe) alloys, that dream has finally become a reality.
The SiGe heterojunction bipolar transistor (HBT) is the first practical bandgap-engineered device to be realized in the silicon material system. Integration of SiGe HBTs with best-of-breed Si complementary metal oxide semiconductors (CMOS) to form a SiGe HBT BiCMOS technology is an obvious fit for addressing emerging system-on-a-chip and system-on-a-package integrated circuit solutions.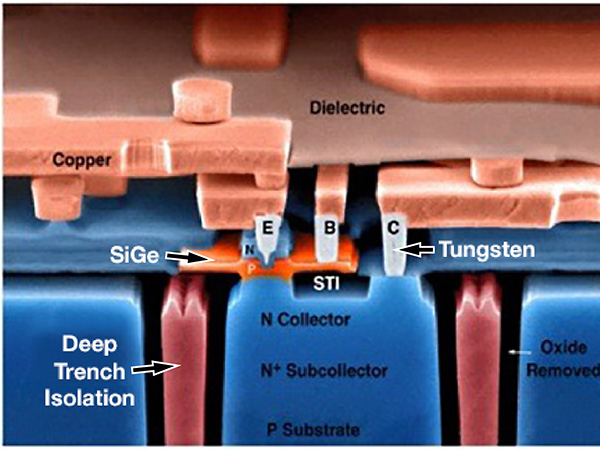 While SiGe technology enjoys a growing importance in performance-constrained analog, digital, and radio frequency through mm-wave circuits and systems, emerging SiGe applications for which reliability issues present both nuanced challenges and exciting opportunities include space systems, the quantum realm, power electronics, and integrated photonics.
The notion of integrated circuit reliability must be broadened beyond classical interpretation to address:
•  robust operation from direct current to near-Tera Hz speeds, under both static and dynamic electrical stress, as a function varying impedance environments and feedback mechanisms
•  operation over extreme temperatures
•  operation within intense radiation fields, including total ionizing dose, displacement damage, and single event transient phenomena
Scanning electron micrograph of a SiGe HBT. The SiGe alloy is shown in orange.

Photo courtesy of John D. Cressler
Subscribe to Getting It Right
Want Getting It Right delivered to your inbox quarterly?