In the past, only electrical, electronic, electromechanical, and electro-optical (EEEE) parts and materials that met the most stringent requirements and highly prescribed tests, controls, and analysis methods were selected for high-stakes space missions.  
Today, with extraordinary advances in alternate-grade parts (i.e., commercial, automotive, industrial) and other nonspace-grade electronics technology combined with the underlying insight into failure modes, these parts can deliver unprecedented quality and reliability—in their intended application.
One factor driving the attractiveness of these parts is the lower procurement cost relative to space-grade EEEE parts, but other benefits exist as well. Lower power requirements, smaller footprint, lighter weight, more rapid technology refresh rate, and shorter acquisition lead times are all highly desirable features.
How do these advantages balance against the additional risks in a space environment for which they were not designed? One of the most daunting impact is exposure to the space radiation environment: galactic cosmic gamma rays, protons, electrons, and heavy ions.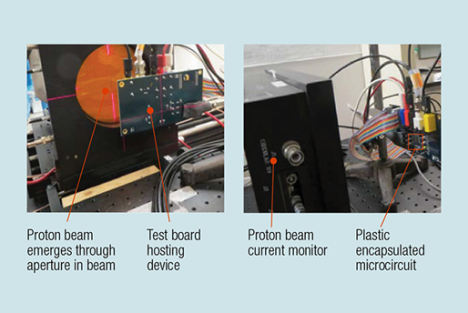 The Aerospace Corporation (Aerospace) is conducting collaborative research with industrial, government, and academic partners to characterize the tolerance of selected alternate-grade electronics to particle radiation encountered in space. A goal is to develop data and insights into parts selection and tests that are neither overkill nor too risky, but "just right" for the selected mission's needs. 
A range of simple plastic encapsulated devices such as a realtime clock, metal oxide semiconductor field effect transistor (MOSFET), diode, operational amplifier, field-programmable gate array (FPGA), microcontroller, analog-to-digital converter, and digital-to-analog converter has been examined. The tests include gamma ray radiation to characterize degradation due to total ionizing dose and single-event effects issues such as data corruption and circuit damage due to protons exposure. The radiation test results are shared with the space community to accelerate the parts selection and testing process, especially for short-duration missions and those willing to accept more risk. 
Contact Aerospace for copies of existing reports, opportunities to contribute data to the repository, or to recommend parts and materials for future radiation testing.
---
REFERENCE 
A Proposal to Harvest Mission Assurance Efficiencies Through Alternate-Grade Parts Data Sharing by Allyson D. Yarbrough et al., 2018 Space Parts Working Group Proceedings, OTR-2018-00594. 
Subscribe to Getting It Right
Want Getting It Right delivered to your inbox quarterly?