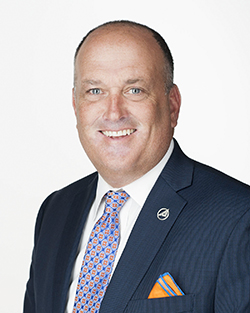 Nygren will provide leadership to further advance mission assurance practices and identify opportunities to facilitate, foster, and implement emerging engineering developments as they relate to the Space Warfighting Construct.
"Todd's new leadership role will support the U.S. Air Force's number one space priority, the Space Warfighting Construct (SWC)," said Steve Isakowitz, Aerospace president and CEO. "Todd and his team bring the technical expertise, deep capabilities, and innovative solutions that our customer needs to this new warfighting domain."
The SWC is the U.S. Air Force's vision of combining transformational and warfighting-focused command initiatives to maintain the nation's space superiority in the 21st century.
Nygren joined Aerospace as a summer hire in 1985. He became a member of the technical staff in 1987, supporting mission planning for military missions on the Space Transportation System for the Space Test Program. Throughout his career, Nygren has excelled in a series of leadership positions. Most recently, he was the general manager of the Systems Engineering Division, leading bicoastal work to support customers in space systems architecture and design, acquisition and planning, mission assurance and system analysis, and simulation. Nygren earned a bachelor's degree in mathematics from Bethel College and a master's degree in system architecting and engineering from the University of Southern California.
About The Aerospace Corporation
The Aerospace Corporation is a national nonprofit corporation that operates a federally funded research and development center and has approximately 4,000 employees. With major locations in El Segundo, Calif., Albuquerque, N.M., Colorado Springs, Colo., and the Washington, D.C., region, Aerospace addresses complex problems across the space enterprise and other areas of national significance through agility, innovation, and objective technical leadership.  For more information, visit www.aerospace.org. Follow us on Twitter: @AerospaceCorp.
###
Media Inquiries
Media Relations
Corporate Communications and Public Affairs Division