In honor of Engineers Week, Aerospace is spotlighting a few of our many great engineers and getting a peek at the exciting projects that they're focused on. Keep checking back to Meet Our People all this week!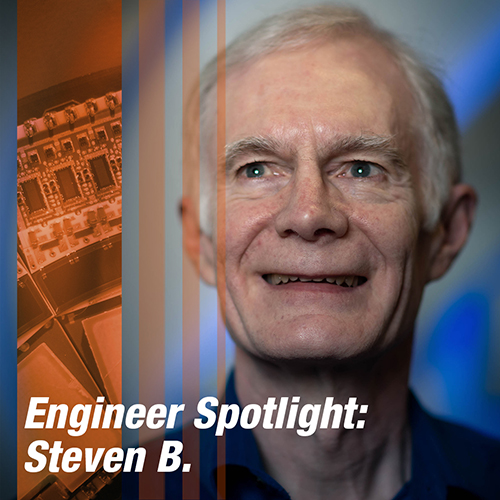 Name: Steven
Alma Mater: Masters in Mechanical Engineering, University of California, Davis; Bachelors in Mechanical Engineering and Materials Science and Engineering, University of California, Berkeley
Department: Modeling and Simulation Department/System Analysis and Simulation Subdivision/Systems Engineering Division
Can you tell us about the work you do here at The Aerospace Corporation?
I perform mission utility analyses. Our department strives to answer the influence that current and future space systems have on the outcomes of scenarios that are of interest to warfighters. As my director has said when she describes what we do, think Starcraft but without the cool graphics. There are other things in Starcraft that are not in our simulations (Zerg, for example), but we get to model navigation, communications and sensing satellites instead.
Who or what inspires you? Why?
The people who had a huge inspirational impact on me were my managers in the early part of my career at Aerospace. Don Saulson, Tom Kazangey, Ken Hagen, Gerry Manke and Karl Fletcher were really good engineers (three are on the President's Award wall in A1) in addition to being counselors, mentors and friends (Tom even picked out my wife's engagement and wedding rings!). They are the role models I have aspired to emulate.
When was the moment you realized that you wanted to make this your career?
Contrary to all the career guidance I have heard, seen and read, I have not thought much about my career path. Instead, I have been drawn to the work that seems to be fun and exciting.
What work outside of your own department is Aerospace doing that excites you the most?
I have had a lot of opportunities to interact with and see the work that is done in the Strategic and Global Awareness Directorate (AKA Project West Wing). If I were not in the Modeling and Simulation Department, PWW is where I would want to be. We use information from PWW to make our simulations more representative of reality, and they have the knowledge and expertise to add credibility to what we simulate. I have spent so much time over there that they have sort of adopted me. I even get invited to their parties.
Why did you choose to work at Aerospace?
When I was seeking a job near the end of my stint in grad school, I applied to the usual space contractors that came to campus, plus one seemingly obscure company that I found in a book from my career placement center. I visited a few of them, including the obscure company. While I did meet some impressive engineers at the usual contractors, the working environment seemed less than inviting. The obscure company had a much nicer working environment, a whole lot of impressive engineers, and, in general, a much more appealing atmosphere (including ping pong tables, a putting green, and shuffle board courts). Plus, it seemed intriguing to work for a company that was impressive but a little less visible (sort of like those mysterious technical organizations you see in TV shows and movies, but not so sinister). In case you haven't guessed, that obscure company is Aerospace (when I interviewed at Aerospace, our public profile was far lower than it is today).
What advice would you give to an engineer joining The Aerospace Corporation?
Take advantage of the knowledge that Aerospace employees can offer. The corporation has pockets of expertise on just about any topic related to space. Learning how to network can be very useful in finding information and expertise relevant to your current and future work. Often, it is the extra knowledge or insight obtained by ready access to the broad spectrum of information available to us that can make a good analysis even better. A word of caution, there is no such thing as a short conversation with an engineer who is passionate about his or her work.
If you're interested in joining the Aerospace team, be sure to visit our careers page.