In honor of Engineers Week, Aerospace is spotlighting a few of our many great engineers and getting a peek at the exciting projects that they're focused on. Keep checking back to Meet Our People all this week!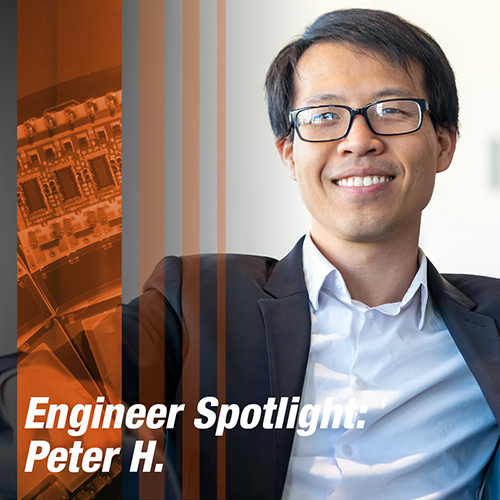 Name: Peter
Alma Mater: California Institute of Technology (Caltech)
Department: Office of the CTO/Science and Technology Strategy and Development
Can you tell us about the work you do here at The Aerospace Corporation?
I work in Science and Technology Strategy and Development as a Project Leader. In this role, I work with engineers, scientists, and those working directly with the government customer to understand their needs and the next big challenge in the space industry. I also work with the scientists and engineers to identify external opportunities to further develop their cutting-edge research to support our government customers.
Who or what inspires you? Why?
Carl Sagan is my role model. Not only is he a renowned researcher, he was a phenomenal educator with the ability to translate science to everyone regardless of their background in science. He brought science to millions and inspired many to become scientists and engineers! He is one of the reasons why I'm involved with STEM outreach programs!
When was the moment you realized that you wanted to make this your career?
In high school, one of the STEM programs I competed in was Science Olympiad and my event was to build a Rube-Goldberg machine, a machine designed to complete a simple task through many indirect steps. Seeing how my team and I were able to get the various steps working so that the overall machine was successful gave me an appreciation for the complexity and intricacy of the larger projects like those Aerospace support.
What work outside of your own department is Aerospace doing that excites you the most?
Aerospace's civil work is really exciting, ranging from supporting NASA's latest mission to making new biomaterials that will benefit the generations to come.
Why did you choose to work at Aerospace?
The people at Aerospace is the reason I chose to work here. We have everything from recently graduated college students to scientists and engineers with more than 50 years at Aerospace. And regardless of who they are or their background, everyone is always respectful and supportive of each other's work so that entire team is successful.
What advice would you give to an engineer joining The Aerospace Corporation?
Make sure you check out the various Aerospace affinity groups and clubs! The work we do at Aerospace is really interesting so it was easy for me to just immerse in it. But Aerospace has a number of affinity groups and clubs to meet different people who share common interests and to explore new interests!
If you're interested in joining the Aerospace team, be sure to visit our careers page.