A United Launch Alliance (ULA) Atlas V launch vehicle lifted off from Space Launch Complex-41 on July 1 and successfully delivered the Wide Field of View (WFOV) and USSF-12 Ring spacecraft to geosynchronous orbit (GEO) for the United States Space Force (USSF).
The USSF-12 mission used an Atlas V 541 rocket, which included a short 5-meter payload fairing, four strap-on solid rocket boosters and a single engine Centaur III upper stage.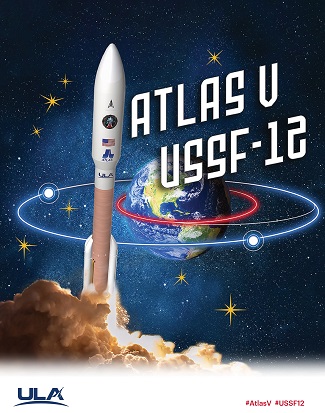 The launch was delayed one day due to weather conditions during the initial launch attempt. The USSF-12 mission to GEO for delivery of both spacecraft was completed in a little over six hours and 45 minutes. The launch marked the 94th successful launch of an Atlas V rocket, the 151st launch for ULA, the ninth 541 configuration vehicle, the 100th flight of the RD-180 booster engine and the second Atlas V National Security Space Launch (NSSL) mission of 2022.
USSF-12 features co-primary payloads: the Wide Field of View Testbed for Space Systems Command's (SSC) Space Sensing Directorate and the USSF-12 Ring spacecraft for the Defense Department's Space Test Program (STP).
The forward payload, WFOV, is a testbed that informs the Next Generation Overhead Persistent Infrared (OPIR) program. The Next Generation OPIR program will replace the Space Based Infrared System (SBIRS) program and is designed to provide a resilient space-based global missile warning capability against emerging missile and counter-space threats. The WFOV testbed has a mass of approximately 3,000 kg and is designed for a 3- to 5-year life. WFOV's primary mission in orbit is to explore future missile warning algorithms with data collected in space.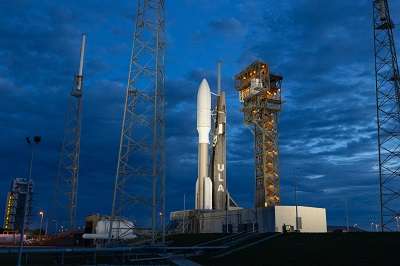 The aft payload is a propulsive EELV Secondary Payload Adapter (ESPA) named the USSF-12 Ring. The Ring contains a classified suite of smaller payloads that will be used to demonstrate future technology for the Department of Defense.
As with prior National Security Space missions, The Aerospace Corporation conducted independent analyses and evaluations of the flight systems, working with the USSF to augment ULA's mission assurance process to ensure the continued NSSL program's legacy of 100 percent mission success. Special attention was placed on first flight hardware items implemented for performance improvements and/or cost savings.
"My sincere thanks to our SSC and Aerospace teammates on the success of another Atlas V launch," said Col. Erin Gulden, Mission Director for the Atlas V USSF-12 mission and Senior Materiel Leader, Assured Access to Space-Launch Execution Delta at Space Systems Command. "This USSF-12 mission demonstrates new missile warning and battlespace awareness sensing capabilities and helps our nation build modular, flexible opportunities for experiments and prototypes. Whether on spacecraft or launch vehicle …engineering, production, integration or launch ops … the years of teamwork and partnerships are what make missions like these a success!"
The next Atlas V mission will be the U.S. Space Force's National Security Launch of SBIRS GEO-6 in early August.