The Aerospace Corporation's AeroCube-14 CubeSats launched on Nov. 2 loaded with nanotechnology payloads to conduct modular experiments and other research.
AeroCube-14 consists of two identical 3-unit CubeSats that launched as part of the Northrop Grumman-12 Cygnus cargo mission to the International Space Station. 
Manifested as AeroCube-14, the CubeSats are part of the National Reconnaissance Office's IMPACT program, led by the Advanced Systems and Technology directorate.  The program is a research and development effort to evaluate new technologies in space.
AeroCube-14's experiments include nanotechnology payloads that will test new and emerging materials, including structural materials and thermal straps, in a space environment.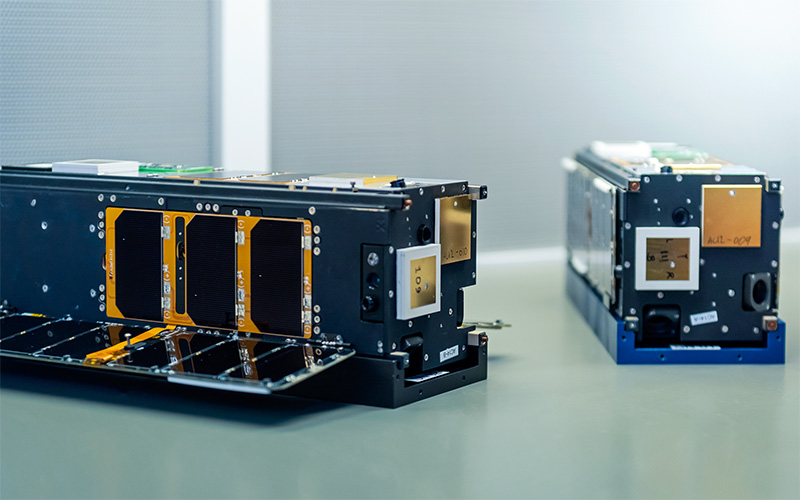 The spacecraft is equipped with advanced solar cells that will be tested for performance and degradation to help with future cell designs. 
The satellites also contain standardized interfaces for modular experiments, a promising area of research that could change the way future small satellite missions are conducted. A standardized interface could allow experiment designers and bus designers to operate more independently of each other prior to integration and launch, providing more flexibility and faster development cycles.
AeroCube-14 will ultimately be delivered to its target orbit by the NanoRacks CubeSat Deployer mounted on the external surface of the Cygnus spacecraft at an altitude of about 500 kilometers.
Scientists will be studying how these experiments are operated in the space environment over the life of the satellite, with the higher deployment altitude providing a longer orbital lifetime compared to satellites deployed from the ISS.
The successful deployment of AeroCube-14, along with the concurrent launch on Nov. 2 of AeroCube-15, will bring the total number of Aerospace CubeSats on orbit to 25. Aerospace was an early pioneer in the development of small satellites and continues to conduct pathfinding research in the field as one of the world's leading private constellation operators.