Inspiring the next generation of leaders in space is a key priority of Aerospace's science technology, engineering and math (STEM) outreach. This year, Aerospace awarded scholarships to students from across the country to support their academic pursuits in STEM fields.  
One way we do this is through the Aerospace Rising Stars (ARS) program, which aims to increase the number of women and diverse students in STEM. Diversity of thought is a crucial factor in achieving innovation and programs like ARS help to ensure a wide range of people with different backgrounds have access to STEM education and opportunities.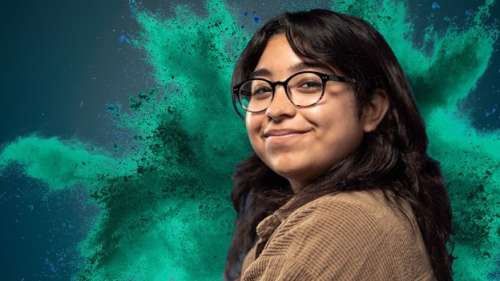 ARS encompasses a variety of initiatives, including The Wanda M. Austin STEM Scholarship, The Aerospace Future STEM Leaders Scholarships, The Aerospace Corporation HBCU (historically black colleges and universities) Scholarship. ARS also partners with programs to expand their impact, such as with The National GEM Consortium (GEM), Brooke Owens Fellowship Program, Matthew Isakowitz Fellowship Program, Patti Grace Smith Fellowship Program, The University of Southern California's Women in Science and Engineering Aerospace Corporation Research Fellowship, California State University, Long Beach's The Aerospace Corporation Dean's Leadership Academy Scholarship. Through a multifaceted approach, ARS aims to support diverse students through their education and beyond, helping them to take their place in space.  
Year after year, The Wanda M. Austin STEM Scholarship continues to support diverse students in a variety of ways on their journey to achieve their dreams. This year's recipient was Evelyn Gamez, who received a paid summer internship, mentoring and a $10,000 per year scholarship, renewable for up to four years. Evelyn was the Valedictorian of Hawthorne High School in Hawthorne, Calif., and will be attending California State Polytechnic University, Pomona, where she will be majoring in manufacturing engineering.  
For 2023, a record number of seven students received the Aerospace Future STEM Leaders Scholarships. Ada Pratico (Huntsville), Armani Boucaud (Washington Area), Elliott Bossetti (Colorado Springs), Jeromy Cupp (Utah), Lorena Madrid Larranaga (Albuquerque), Sabrina Montoya (Albuquerque), and Sofia Gonzalez (Albuquerque) each received a one-time award of $5,000 to be used towards their education. They will also be paired with mentors from Aerospace for academic and career guidance.  
By taking a wholistic approach to expanding opportunities and pathways for students to develop their passion for STEM, Aerospace is encouraging the brightest minds of tomorrow to help shape the future of our space industry.