As the nation's trusted partner for space, Aerospace understands the importance of supporting our nation's veterans, active-duty members serving in the armed forces and their families. We are fortunate to have a strong community of veterans here at Aerospace, ensuring the perspectives and experiences of those on the frontlines of supporting the safety and security of our nation are always top of mind.
In honor of Veteran's Day and the holiday season this year, Aerospace Cares and Aerospace Military Veterans (AMV) partnered with Operation Gratitude to host a letter writing campaign. Employees from across Aerospace and their family members sent letters expressing support and appreciation to those serving in the military, their families and veterans. The program was so successful, AMV decided to extend the campaign throughout the year.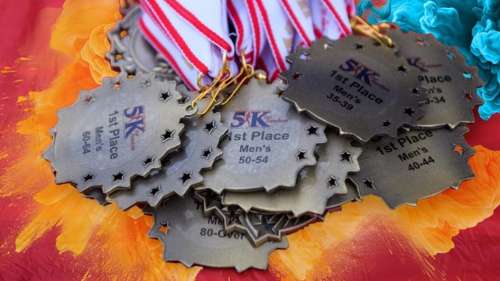 "As a person who served in the US Air Force for 27 years, when you're deployed, you're away from your family, you're away from your loved ones," said Charles Allen, National President of AMV, an Aerospace Employee Resource Group. "You don't have a support mechanism like you usually do. There are times when you work really long hours, and you feel a little lonely and disconnected. Operation Gratitude sent us postcards and it really lifted our spirits. It was a really good cause that I personally benefited from."
In November, Aerospace Cares and AMV partnered with the El Segundo Chamber of Commerce to host the "2022 Salute to the Military" celebration. Hundreds attended the luncheon at Aerospace's El Segundo campus, including representatives from various congressional districts, active military members, veterans, nonprofits, local businesses and more. As a corporate holiday, Aerospace employees had the opportunity to celebrate Veteran's Day by acknowledging the importance and meaning of the occasion.
In December, Aerospace employees participated in Wreaths Across America, gathering in the early hours of the morning at Arlington National Cemetery and Los Angeles National Cemetery to lay down hundreds of wreaths on the graves of veterans and taking a moment to honor their sacrifice by reading their names aloud. Each year, employees donate wreaths or participate at local wreath-laying events around the country, making sure as many veterans as possible are remembered during the holiday season.