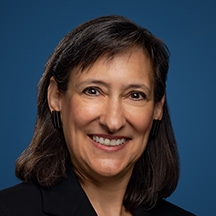 Pemberton joined Aerospace in September 2019 to lead the National Systems Group. In her new role, Pemberton will be responsible for Aerospace's strategic focus on delivering enterprise mission success and technical excellence for its government partners. She will continue the executive focus on strengthening Aerospace's enterprise integration efforts to deliver resilient solutions that meet the needs of an increasingly diverse set of partners.
"At a time of great change in space, Tanya's extensive expertise will ensure Aerospace is well-positioned to deliver on our critical mission while furthering our focus on enterprise mission success and technical excellence," said Aerospace president and CEO Steve Isakowitz. "She is a top technical leader with proven experience developing strategy and effectively leading organizations through change, which will be invaluable as Aerospace adapts to meet the evolving needs of our partners."
As SVP for the National Systems Group, Pemberton led her team as their customers in the Intelligence Community developed next-generation architectures and leveraged cutting-edge capabilities developed by the commercial sector.
Pemberton has more than 30 years of experience in both industry and the federal government, delivering large-scale technical systems and working problems across multiple business sectors to include space systems, mission ground systems, information technology, and analytic organizations.
Prior to Aerospace, she served in a number of senior executive assignments in the Intelligence Community to include chief of staff; associate deputy director for science and technology; program director for a multibillion-dollar imaging satellite system; and chief information officer. She has been recognized for her work with numerous awards, including the Presidential Rank Award in 2013. She has a bachelor's degree in aerospace engineering from the Massachusetts Institute of Technology and a master's degree in aeronautical engineering from the California Institute of Technology.
To ensure continuity in the leadership transition, the positions to replace Pemberton and Vice President for Strategic Space Operations Jay Santee, who will also retire in December, will be posted in the coming weeks. The new Aerospace leaders will assume their roles Jan. 1, 2024.
About The Aerospace Corporation
The Aerospace Corporation is a national nonprofit corporation that operates a federally funded research and development center and has more than 4,600 employees. With major locations in El Segundo, California; Albuquerque, New Mexico; Colorado Springs, Colorado; and the Washington, D.C. region, Aerospace addresses complex problems across the space enterprise and other areas of national and international significance through agility, innovation, and objective technical leadership. For more information, visit www.aerospace.org. Follow us on X: @AerospaceCorp.
Media Inquiries
Media Relations
Corporate Communications and Public Affairs Division