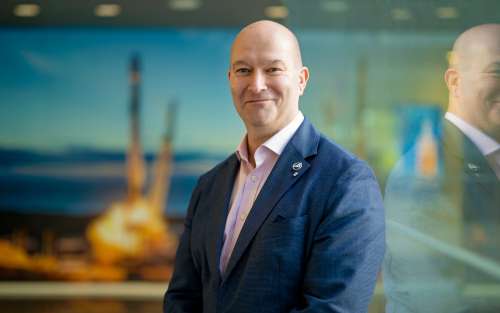 Sandy previously served as chief of staff for the UK Ministry of Defence (MoD) Space Directorate, where he was responsible for developing space policy and strategy, resource allocation and capability development. He will lead Aerospace UK's work with the MoD and the UK Space Agency to support decision-making and to deliver value within the fast-paced and complex space environment. Aerospace UK draws on Aerospace's more than 60 years of experience as a trusted partner to the U.S. space enterprise and as an adviser for governments of space-faring nations within the global space economy.
"I am honoured to be part of the Aerospace UK team and delighted to continue the work I began at the MoD Space Directorate to develop joint U.S.-UK approaches to problem-solving in space. With the war in Ukraine and its global impact, we need, more than ever, to work together to assure secure access to a domain that is critical to our everyday lives," said Sandy.
As MoD Chief of Staff, Sandy was instrumental in developing the new international UK-U.S. strategy for collaboration between the U.S. Space Force, U.S. Space Systems Command and UK stakeholders. Prior to his MoD role, he had a 34-year career in the Royal Navy, during which he held senior posts in NATO and led MoD crisis-planning teams in both COVID response and security aspects of EU transition.
"When we launched Aerospace UK in 2021, a stated goal was to develop and deploy local expertise as we extended Aerospace's decades of experience to our customers in the UK, a crucial U.S. ally," said Jim Myers, Aerospace senior vice president for the Civil Systems Group. "Tapping David Sandy to guide the next phase of Aerospace UK operations is a natural progression toward that objective and toward helping the UK shape its future in space."
About The Aerospace Corporation UK Ltd
The Aerospace Corporation UK Ltd is the wholly owned UK based subsidiary of The Aerospace Corporation registered in Salford. It was established to support UK efforts in a variety of space areas, including launch, space situational awareness, systems acquisition, and programme management. Aerospace also supports a number of different government organisations in the UK space economy. For more information, visit www.aerospace.org/uk.
About The Aerospace Corporation
The Aerospace Corporation is a national nonprofit corporation that operates a federally funded research and development center and has more than 4,600 employees. With major locations in El Segundo, California; Albuquerque, New Mexico; Colorado Springs, Colorado; and the Washington, D.C. region, Aerospace addresses complex problems across the space enterprise and other areas of national and international significance through agility, innovation, and objective technical leadership. For more information, visit www.aerospace.org. Follow us on X: @AerospaceCorp.
Media Inquiries
Media Relations
Corporate Communications and Public Affairs Division