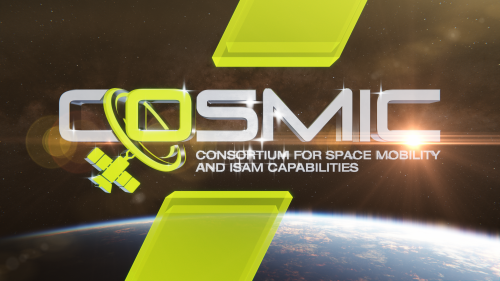 Jim Reuter, associate administrator for STMD, announced the launch of this new national consortium at the 38th Space Symposium today in Colorado Springs, Colorado.
The newly formed Consortium for Space Mobility and ISAM Capabilities (COSMIC) will help facilitate coordination across government, industry, research and academia to develop ISAM capabilities.
"ISAM is a true game changer for the developing space ecosystem. From in-space refueling to assembling spacecraft on-orbit, these capabilities will reshape how we think about operating in space and support critical missions ranging from national security to space exploration," said Steve Isakowitz, Aerospace president and CEO. "We are proud to work side by side with NASA to convene experts from across the space enterprise to advance these pivotal capabilities."
Proposed ISAM capabilities may extend spacecraft and mission lifecycles by enabling in-space repair, refueling and relocation; in-space assembly and manufacturing capabilities may reduce deployment costs and timeframes by enabling the production and construction of components directly in space on planetary bodies like the moon or Mars.
COSMIC's charter to cultivate U.S. ISAM innovation supports multiple levels of national policy, including the ISAM National Strategy and National ISAM Implementation Plan, released in 2022, and the standing National Space Policy mandate to establish a permanent human presence on the moon. The task for managing COSMIC was delivered in February under Aerospace's existing NASA Specialized Engineering, Evaluation and Test Services contract.
"The next generation of commercial spacecraft is being designed for sustainable, flexible in-space operations, a clear demand signal for the technologies and capabilities that a mature ISAM market will deliver," said Jim Myers, senior vice president for Aerospace's Civil Systems Group. "COSMIC will bring together needs and inputs from the national security and civil sectors of the U.S. government, from commercial space and from the research and academic communities — stakeholder groups which Aerospace is uniquely positioned to convene — to drive ISAM's maturity forward."
A formal COSMIC kickoff meeting is being planned for Fall 2023. Organizations interested in participating in COSMIC can learn more and sign up for advance notice of future meetings at cosmicspace.org.
About The Aerospace Corporation
The Aerospace Corporation is a national nonprofit corporation that operates a federally funded research and development center and has more than 4,600 employees. With major locations in El Segundo, California; Albuquerque, New Mexico; Colorado Springs, Colorado; and the Washington, D.C. region, Aerospace addresses complex problems across the space enterprise and other areas of national and international significance through agility, innovation, and objective technical leadership. For more information, visit www.aerospace.org. Follow us on X: @AerospaceCorp.
Media Inquiries
Media Relations
Corporate Communications and Public Affairs Division