At Aerospace, we understand that our communities are integral to who we are as people and as a company. Across the corporation, our people are dedicated to giving back and utilizing their time and talents to serve others in need.  
This year, Aerospace observed Martin Luther King Jr. (MLK) Day, the only federal holiday that is also designated by Congress as a National Day of Service, by encouraging all employees to join together and work towards ending hunger. Food instability and hunger affects more than 34 million people in the United States, including nine million children. For the day of service, Aerospace partnered with multiple organizations to provide opportunities for employees to become engaged and help address this nationwide problem.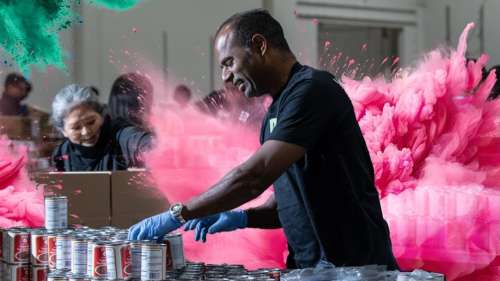 Across the country, Aerospace employees celebrated Dr. King's legacy and lifelong service by investing their time to give back to their communities. In addition to a corporate-wide giving opportunity supporting Feeding America, the largest charity focused on ending hunger in the United States, employees from Chantilly, Colorado Springs, El Segundo, Maryland, Albuquerque and Huntsville, volunteered alongside their colleagues at food banks and community outreach programs.  
Making a difference goes beyond one day a year at Aerospace. It is deeply ingrained in our culture. Throughout the year, Aerospace employees give back through programs, such as the Aerospace Mentoring Initiative, youth STEM outreach, volunteering through various opportunities facilitated via our Aerospace Cares online platform and supported by our Employee Resource Groups.  
In 2023, Aerospace employees have volunteered more than 8,000 hours of service, generously donating their time and talents to create meaningful impact. By providing a breadth of opportunities and encouraging giving all year-round, Aerospace is able to ensure that together we make a positive difference in our community.