Continuous innovation is essential to advancing new possibilities for space and the technologies that enable it. This constant pursuit of technical excellence requires a commitment to exploring the concepts and capabilities for the mission needs of today, while also nurturing the maturation of technological breakthroughs that will shape the architectures of tomorrow. 
Aerospace's strategic approach to investing for technical excellence aims to equip its world-class experts with the modern tools, capabilities, and skills – such as model-based systems engineering, digital engineering, artificial intelligence and machine learning (AI/ML) – that expands its unparalleled breadth and depth of technical expertise.
"As the nation's trusted partner for space, Aerospace is relied upon to lead from the front, solving the hardest problems for our customers.  We do this by leveraging cutting-edge technologies for priority mission areas while fostering longer-term research and development efforts to ensure the nation's leadership in space for the future," said Dr. Debra Emmons, Vice President and Chief Technology Officer of Aerospace. 
This strategic approach is executed by facilitating opportunities and ideas across Aerospace's broader ecosystem – leveraging a multi-pronged approach that delivers reliable and advanced solutions to support government mission needs while also fostering opportunities for unique ideas and novel innovations that have the potential to shift the paradigm.
Aligning Investment Priorities to Customer Needs 
The modern space domain is moving faster and becoming increasingly more complex. To stay ahead, Aerospace ensures that its technical capabilities are strategically aligned to support the priorities and mission needs of its government partners. This includes rigorously strengthening and evolving the core capabilities that support those needs, generally within a more focused time horizon. Examples of current efforts include projects aimed at augmenting more resilient and agile space architecture and systems – such as alternative forms of position, navigation and timing (PNT), onboard spacecraft cyber security, distributed ground systems and adapting state-of-the-art tools like AI/ML.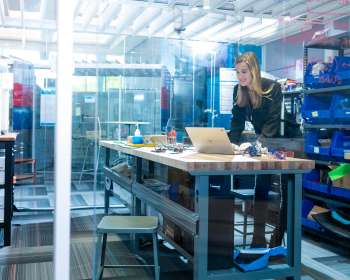 "Generally speaking, we're focused on funding investments to meet the near-term capability requirements of Aerospace and its customers," said Jenny Tanzillo, Principal Director of Aerospace's Enterprise Laboratory, which oversees this group of investments. "We perform internal and external landscape scans as well as other awareness and outreach functions as part of our process for informing the technical investment strategy. This ensures Aerospace always has its finger on the pulse of the modern space domain."
Aerospace also coordinates its strategic investments for projects that support the maturation and development of modern and emerging capabilities. These areas cover themes and capabilities that serve current priorities while also having significant impact for the future, such as advancing capabilities for digital engineering, modernizing modelling and simulation, In-space Servicing, Assembly and Manufacturing (ISAM), AI/ML for decisioning (including data analytics and exploitation), resiliency, enterprise integration, and ground and software study. 
This varied approach enables Aerospace to effectively align its technical capabilities and skills with customer priorities and mission requirements. 
Anticipating Needs
Ensuring the nation's leadership in space also requires foresight into the rapidly evolving environment. Aerospace provides the collaborative resources and infrastructure needed for its experts to experiment with advanced concepts and creative ideas that have the potential to create high-impact, game-changing breakthroughs. Nurturing these earlier-stage projects, which at times requires a higher risk tolerance, provides opportunities to pursue bold ideas that address the hard problems of the future.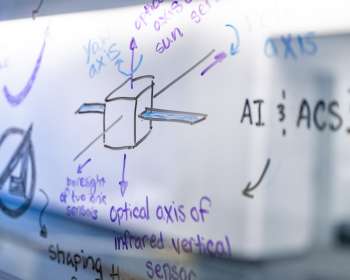 "Our forward-looking range of investments is focused on identifying unconventional, transformative concepts and capabilities to enable the space enterprise to thrive in competition while maintaining an upper hand. These investments provide a space for Aerospace staff to explore ideas and develop solutions with varying ratios of risk to reward," said Charles Player, Principal Director of Aerospace's Innovation Laboratory, which oversees this group of investments. 
Aerospace is able to leverage its community of experts to crowdsource ideas that think outside the box. Past investments have led to innovations, such as the Slingshot modular CubeSat platform. Aerospace is currently tracking portfolios based on themes, such as data engineering and synthesis, space warfighting capabilities, space cyber, and climate and space. Within each portfolio are Aerospace-funded projects to research and develop novel approaches and solutions to address these critical areas for space and beyond. 
Through portfolios, such as the Responsive Studies and Advanced Concepts portfolios, Aerospace is also able to support its customers in identifying creative approaches to address complex challenges, utilizing its innovative processes to identify and explore unique solutions.
Investing Now for Current and Future Capabilities
Bolstered by its depth of technical talent and breadth of subject matter expertise, Aerospace's culture of collaboration, innovation and forward thinking play a crucial role in driving advancements for the nation's space capabilities. Aerospace is further spurring innovation through coordinated exploration of potential technological solutions and gap-closers, strategically growing its capabilities and expertise to shape the future. 
Aerospace's multi-pronged strategic approach underscores its commitment to advancing capabilities and sustaining the highest caliber of technical excellence to meet customer requirements for the current and future space environment. This approach is delivering results, positioning Aerospace well to lead from the front to support its government partners and the broader space enterprise.