Space-based capabilities play an integral role in enabling the everyday products and services people depend on, as a technological foundation that drives modern society and global infrastructure. As the pace of activity across the space domain has accelerated, the need to preserve these assets in orbit and ensure the accessibility that enables new capabilities in an increasingly congested and contested environment must be addressed collaboratively.
The Aerospace Corporation is dedicated to convening opportunities that drive the integration of these efforts across the nation's defense, civil and commercial space programs as well as international partners to advance solutions that emphasize speed and resiliency for space's hardest problems.
In December, Aerospace partnered with TechCrunch to bridge connections and conversations that tackle these challenging topics, focusing on breaking down legacy barriers and creating pathways that accelerate innovation. At TC Sessions: Space 2022 — which attracted over 1,000 attendees from diverse backgrounds and perspectives, including government, start-up entrepreneurs, venture capital, and academia – industry leaders and experts were able to engage in sharing insights and opportunities toward a shared mission.
As a precursor the day before, Aerospace's Commercial Space Futures Office hosted the Voice of the Warfighter event, convening a venue for exchange between commercial industry and U.S. warfighters across the services and combatant commands. The discussions helped to inform commercial space companies of warfighters needs to support maturation alignment and future integration of innovations with government missions.
Shaping the Future of Space Leadership
Innovation and new ideas start with people. For the nation's space sector to succeed, it must nurture a robust and vibrant pipeline of diverse talent for future generations. Earlier this year, Aerospace President and CEO Steve Isakowitz announced the creation of Space Workforce 2030, a consortium of 30 leading space companies committed to improving industry diversity and representation over the next decade.
At this year's TC Sessions: Space, Isakowitz joined a panel featuring Michael Edmonds of Blue Origin, Amy Pritchett of Pennsylvania State University, and Melanie Stricklan of Slingshot Aerospace to discuss the work they're doing to inspire, prepare and employ the next generation of scientists and engineers.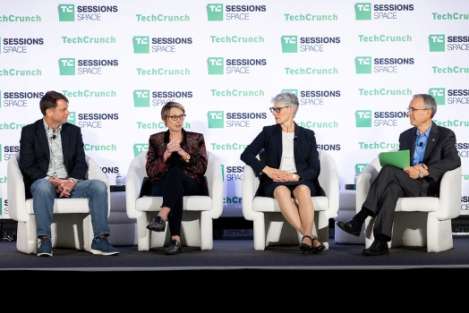 "As a space industry, we very much depend on innovation and entrepreneurship. If we're going to be successful, we've got to increase the pool of high-quality candidates who can come into this really exciting industry," Isakowitz said. "We've got to achieve a more diverse set of employees and workforce as we go forward. About a year ago, 30 leading companies in our industry, both large and startup got together and created something called Space Workforce 2030 with the goal of working together to try to enhance the level of diversity that we're seeing in our industry."
Space Workforce 2030 goals are centered around three focuses: K-12 STEM, those transitioning from college to careers, and professionals already in the industry.
"The talent pool has to increase," Sticklan said. "Starting from scratch or not, the talent pool isn't where it needs to be today. It's all of our responsibilities in this community to start earlier and design at the K-12 level so that for the next generation, the word 'diversity' is just like 'innovation.' It's not a singular term that is out of the normal. I cannot wait for the day to come where diversity is treated like the word innovation, and it's just part of what we do."
Isakowitz joined the Space Workforce 2030 panel featuring Michael Edmonds (Blue Origin), Amy Pritchett (Pennsylvania State University), and Melanie Stricklan (Slingshot Aerospace).
Advancing Integration for Speed and Resilience
Advancements in the commercial space sector in recent years has contributed significantly to driving down costs while expanding the potential of new innovative capabilities. As a result, the nation's civil and defense space programs have shown a growing interest in finding opportunities to partner with this burgeoning ecosystem of startups and new space companies.
Assistant Secretary of the Air Force for Space Acquisitions and Integration Frank Calvelli – who recently outlined the department's nine tenets aimed at driving speed, resilience and integration – spoke about his philosophy and priorities for space architecture of the future.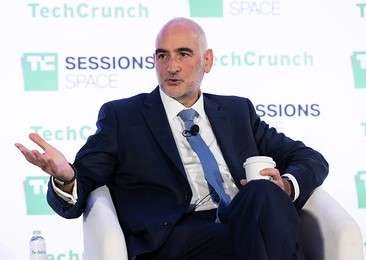 "I want to go fast in space acquisition," Calvelli said. "The threats against our systems posed by both Russia and China right now are too great. When you look at the threats, you look at how important space is not only to the warfighter, but also to the U.S. economy. It's really important that we drive our architecture to have some resiliency. That's going to be through diversification; diversification of orbits and proliferation of satellites. I wrote the tenets because I really, really want to go faster."
He pointed to existing systems, such as missile warning/missile tracking capabilities; precision, navigation and timing with GPS; MILSATCOM; and space domain awareness.
While these systems are effective, they were developed in an era that required more significant costs, longer development timelines, and lacked diversification. Among the focuses going forward include integrating space across other warfighting domains, breaking down stovepipes, awarding executable contracts while holding industry accountable, and building smaller satellite and ground systems to enable speed and flexibility.
"This is where everybody in the room has a big role," Calvelli said. "All the startups do such a great job with technology. When we start building smaller, that opens up avenues to a whole host of different companies out there."
Leveraging Commercial Space to Support the Warfighter
With space now a warfighting domain, ensuring integration to enable speed and resilience for the nation's space architecture has never been more critical than it is today. Aerospace's Jean Michael, General Manager of the Space Enterprise and Warfighting Division, hosted a discussion on this topic with panelists Charlie McGillis, Vice President of Partnerships at Slingshot Aerospace; Pete Muend, Director of Commercial Systems Program Office at the National Reconnaissance Office; Col. Joseph Roth, Commander of Innovation and Prototyping Acquisitions Delta at the Space Force's Space Systems Command, and Christopher Solee, Acting Director of the Capability and Resource Integration Directorate (J8) at U.S. Space Command.
"It's a really exciting time. Obviously, industries are moving very quickly, putting forward a lot of really innovative and interesting capabilities. We're there to take advantage of them as part of a larger hybrid architecture," Muend said. "It's all about making sure we can meet the mission, and do so in a way that leverages the U.S. industrial base that really complements between both commercial systems and national systems."
He discussed the effectiveness of a requirements-driven approach for acquiring mission-need capabilities – which also serves as a demand signal to industry – while also being positioned to leverage the latest innovations as new commercial solutions become available.
"The Space Force is responsible for ensuring the joint warfighter has the capabilities it needs to deter conflict, whether that's in space and cyber, on the ground, at sea, or on the land. It's a really important mission and I think the commercial industry plays a big part of that," Roth said. "We don't want to be developing systems that we think commercial can develop better. What we are doing is trying to take advantage of how we plug into those systems and integrate and operate with them, and then eventually expand that."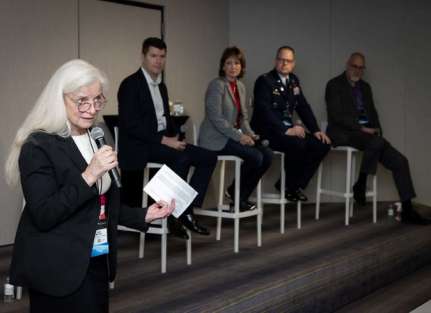 He added that SSC has created multiple offices to work with commercial providers, modeled similarly to the NRO's strategy, and hosts engagements like reverse industry days — which Aerospace supports in facilitating — to foster collaboration.
"As we bring commercial capabilities into the military, we have to really think about how we're going to integrate those capabilities," McGillis said. "Being able to take over those capabilities from the military -- we have some capability that will help there, but you have to be able to integrate that capability, and communicate and coordinate that across from civil, commercial and military."
Accelerating Innovation for the Future of Space
One area of the new space economy that lends itself to transformational innovations is In-Space Servicing, Assembly, and Manufacturing (ISAM) and the potential to conduct more robust operations on orbit and in deeper space. Earlier this year, the White House issued a National ISAM Strategy, which calls for more integration and coordination across government agencies, and collaboration with commercial and international partners.
Aerospace's Dr. Debra Emmons, Vice President and Chief Technology Officer, hosted a discussion on how government and commercial collaboration on technologies and capabilities in this field could provide new pathways for extending satellite lifecycles, enabling debris removal, and sustaining operations in orbit, cislunar space and beyond.
She was joined by Robert Hauge, President of SpaceLogistics, and Lt. Col. Frank Clark, Futures and Innovation Branch Chief of the Assured Access to Space Engineering Division for Space Systems Command.
"What a difference a year has made," Emmons said. "We have national policy now that's really outlining around ISAM and about how we get to a place where we have an operationally sustainable new space economy and how we bring capabilities to bear. We've seen a major amount of investment in commercial and commercial space, and part of that has really been in this ISAM area, and commercial space stations capability in LEO."
Clark referenced Space Force's "exploit, buy, build" approach to acquiring space capabilities, which prioritizes leveraging existing technology and available commercial solutions, and develops internally only when necessary. The panel discussed how demand signals from government is critical to shaping commercial maturation, and the need for more widely adopted technological standards to nurture scalability of the broader ecosystem.
"We're excited about what we're seeing with the potential that's coming out of the U.S. Space Force to pursue capabilities in the future for in-space servicing," Hauge said. "We're eager for it. It can't come soon enough. We're ready to start."