EDITOR'S NOTE: Since the initial rollout of the prototype space traffic coordination system described in this article, the Office of Space Commerce (OSC) within the National Oceanic and Atmospheric Administration (NOAA) has renamed the tool the Traffic Coordination System for Space, or TraCSS. This article has been updated to reflect that change.
Traffic etiquette, once learned, can seem intuitive: a driver stops their car at a red light, understanding that cross traffic will have a green light and the right-of-way. Coordinating these simple signals has enabled a vast transportation system that continuously accommodates over 275 million motor vehicles across the United States. Before traffic signals existed, thoroughfares were congested with cars, horses, and people which led to avoidable accidents.
The historic ad hoc traffic flow regime is analogous to today's space environment, but just like how air, ground, and maritime transportation systems have developed traffic flow standards, space traffic coordination needs to evolve with standards and best practices to operate safely and efficiently.
The Aerospace Corporation is supporting the space enterprise and the broader space community to address these challenges, such as fostering discussions on best practice frameworks and advancing the technical capabilities that demonstrate the art of the possible.
In support of the Office of Space Commerce (OSC) within the National Oceanic and Atmospheric Administration (NOAA), Aerospace's experts have contributed to a cloud-based prototype system that will allow for ingesting vast amounts of space object orbital data, creating an essential digital repository that enables the level of space situational awareness data sharing and processing needed for the space domain to thrive.
"The expected exponential increase in space activity in the coming years will be driven by commercial activities," said Uma Bruegman, Assistant General Manager in Aerospace's Civil Systems Operations. "Aerospace has a deep history collaborating with defense, civil and commercial space to advance the nation's space enterprise. Supporting government missions and working with all stakeholders to address the need for effective space traffic coordination schemes is a natural extension of our inherent space expertise."
The timeline video above illustrates the number of objects in orbit since 1957, which continues to grow at an exponential rate with the accelerated pace of space activity. Left unaddressed, the current trend poses a legitimate threat to the sustainability for the future of space operations.
Why Space Congestion Matters
With estimates reaching as high as 58,000 new satellites expected to be launched by 2030, the current space environment is experiencing an unprecedented boom. While this development is encouraging for new opportunities for innovation and exploration, it also elevates concerns of considerable congestion of low Earth orbit.
Left unaddressed, the current trend poses a legitimate threat to the sustainability for the future of space operations. Unlike car accidents which can be removed from the highway system, space collisions result in debris that can hamper operations for decades to centuries.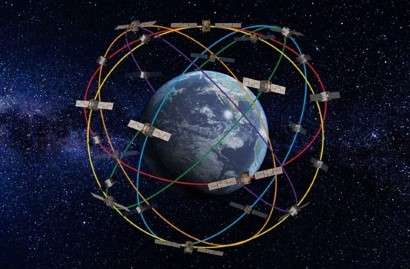 Just like the way highway systems have evolved since the early days of Ford's Model T, there is a need to continuously evolve space traffic systems to keep pace and ensure a safe and sustainable operating environment for current and future generations. Preserving the near-Earth space environment through space traffic coordination efforts will be an increasingly essential part in achieving sustainability and scalability for all participants operating in space.
Enabling Broader Data Sharing for Safe Space Operations
The ongoing transition of the Space Situational Awareness (SSA) on-orbit safety mission for the commercial satellite owner/operators from the Department of Defense (DoD) to NOAA marks a shift in the responsibility for the mission of communicating and coordinating civil and commercial SSA data. This effort will entail collaboration with non-government and international partners to shape best practices through transparency and establish an integrated approach to data and information sharing.
In accordance with Space Policy Directive-3, and at the request of the U.S. Congress, NOAA recently provided a demonstration of the cloud-based prototype system to support space traffic awareness data sharing efforts. The cloud-based system known as the Traffic Coordination System for Space, or TraCSS, included support from federally funded research and development centers (FFRDCs), including MIT Lincoln Labs, MITRE and Aerospace in developing and demonstrating NOAA's transformative prototype.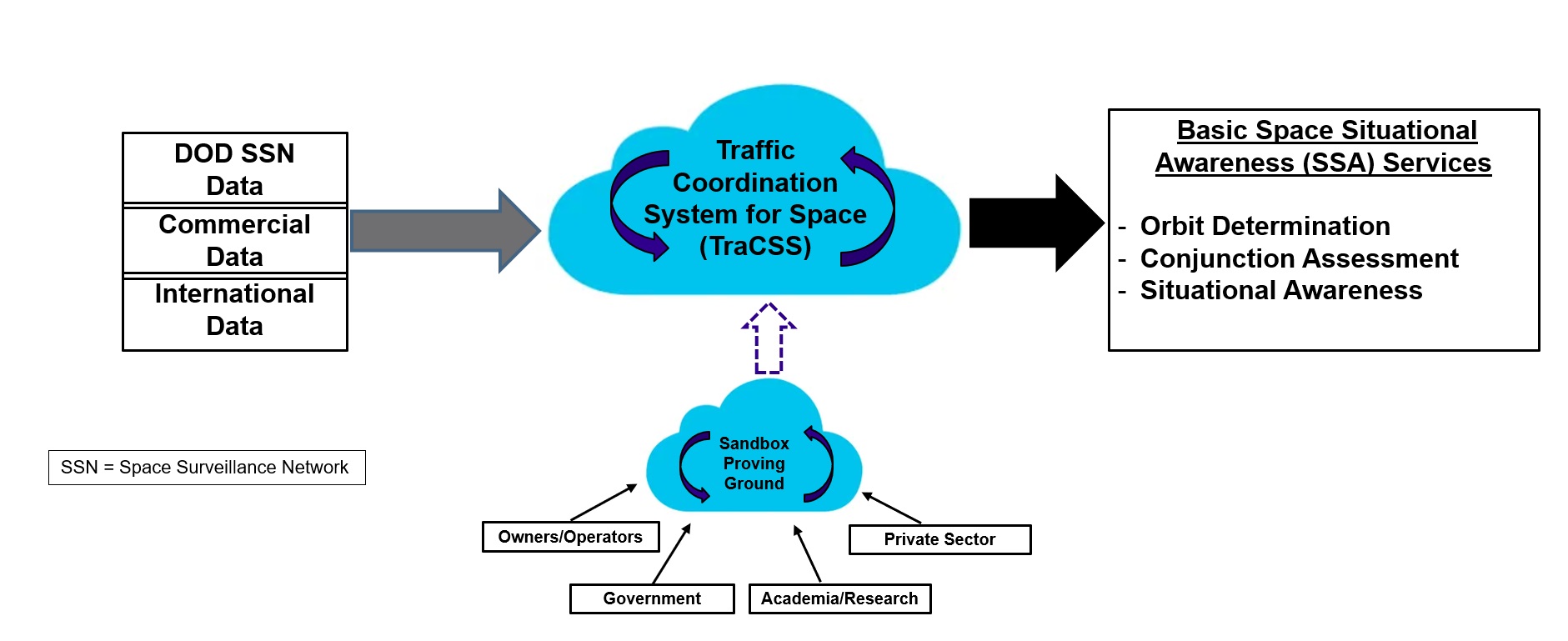 "This system prototype allows us to explore how to provide space situational awareness basic services, incorporate diverse sources of data, and offer a platform for academia, government and industry to innovate," said Scott Leonard, Technical Director in NOAA's OSC, during a recent media briefing on the prototype. "Within the TraCSS system, we'll be able to advance the science of our space environment and create new tools and technologies to improve the safety and sustainability in space."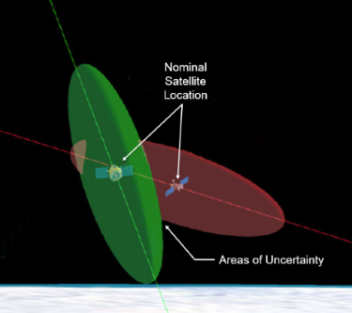 The TraCSS prototype is designed to digitally integrate existing data from the United States Space Force's Space Surveillance Network, along with the rising number of commercial services and data providers to strengthen space situational awareness. Additional information provided by satellite owner operators, international agencies and others will help reduce areas of uncertainty and present an increasingly precise understanding of where vehicles and debris are in space. The fusion of data sources will generate improved orbit predictions, identify potential collisions, and provide visualizations and recommended actions for risk mitigation.
"The TraCSS will improve transparency so that all space operators—including international operators—will have the access to data to better understand how conjunction assessment calculations are done," said Patrick Bauer, Systems Director of Civil Aerospace Programs at Aerospace. "The system will provide actionable information so operators can make assessments and informed decisions on what actions to take."
This ongoing availability of information and multilateral cooperation will enable the TraCSS to serve as a trusted source of truth—creating a common baseline of actionable information to increase the probability of success with the actions taken by space operators. Stakeholders will have the ability to leverage the data to appropriately and safely navigate in the busy space environment.
"The system works by sending the space operator a conjunction warning when there is an above-threshold statistical probability their space object is coming into proximity with another space object," Bauer said. "From a space operator's perspective, they want to see the math and calculations behind it. So, operational transparency is essential because every time they have to maneuver, they're expending fuel, and as a result, shortening the life of their satellite mission. They don't like to do it unless they absolutely have to."
Shared Solutions for Space's Most Complex Challenges
With deep technical and policy experience with space traffic coordination issues, Aerospace was uniquely prepared to offer valuable insight and objective feedback on the TraCSS prototype. When OSC requested technical insight, Aerospace drew from its existing tools, databases, forward-thinking personnel and other internal capabilities—all possible due to a rich history spanning over six decades of supporting the nation's space missions and stakeholder relationships as the trusted partner for the space enterprise. Aerospace has all the necessary capabilities to intake and process the sensor data—primarily radar and electro-optical telescope data—to perform these conjunction assessment calculations.
"From our long history supporting the space enterprise, Aerospace had all the components to build the TraCSS system, along with the deep subject matter expertise in understanding the nuances of the space environment and orbital mechanics. Our team integrated the components with modern IT, cloud, and system architecture techniques for scalability and modularity," said Danielle Bernstein, Principal Director of Federal Programs. "These aspects are what made it possible for us to effectively develop the TraCSS prototype on behalf of OSC."
Aerospace was able to lead the effort in building the TraCSS system in less than four months. Personnel also worked with NASA's Conjunction Assessment and Risk Analysis (CARA) program office and other organizations to validate the output data produced from the TraCSS system was accurate when compared to other sources of information.
NOAA's current goal for the TraCSS is reaching initial operational capability in 2024 and full operational capability by 2025. The process of the TraCSS's creation—from prototype to its future official implementation—is a prime example of the government's interest in engaging with the commercial space industry to meet its mission needs, and underscores Aerospace's strong relationship in connecting these two segments of the space enterprise.
"Aerospace is supporting the space industry and driving some of these solutions, we are partnering more closely with the commercial space industry," said Bernstein. "It is a best-of-both worlds arrangement—pairing our existing expertise with new commercial investment and capability to accelerate innovation, solutions, and outcomes. We have a tremendous amount of capacity to understand the challenges in space, which allows us to point companies in the right direction or bridge ideas together to more quickly get to the solutions our customers need to meet their mission."