The COVID-19 pandemic and the ensuing wide-scale safer-at-home order responses have made it abundantly clear that a return to "business as usual" may never happen. This "new normal" will require new, innovative methods of providing services that can be implemented quickly, dynamically, and often remotely.
In spite of the challenges presented by COVID-19 and social distancing mandates, The Aerospace Corporation has adjusted seamlessly across the enterprise in adapting to current conditions. A prime example can be found in Aerospace's AeroCube smallsat operations team, which is continuing to provide unabated spacecraft commissioning despite having a significantly reduced on-site workforce. In addition, other aspects of the AeroCube program are being quickly reconfigured to enable a teleworking team to provide the same services that have up until recently been provided by local staff.
More importantly, this new standard may lead to improved operational methods that augment how Aerospace operates going forward.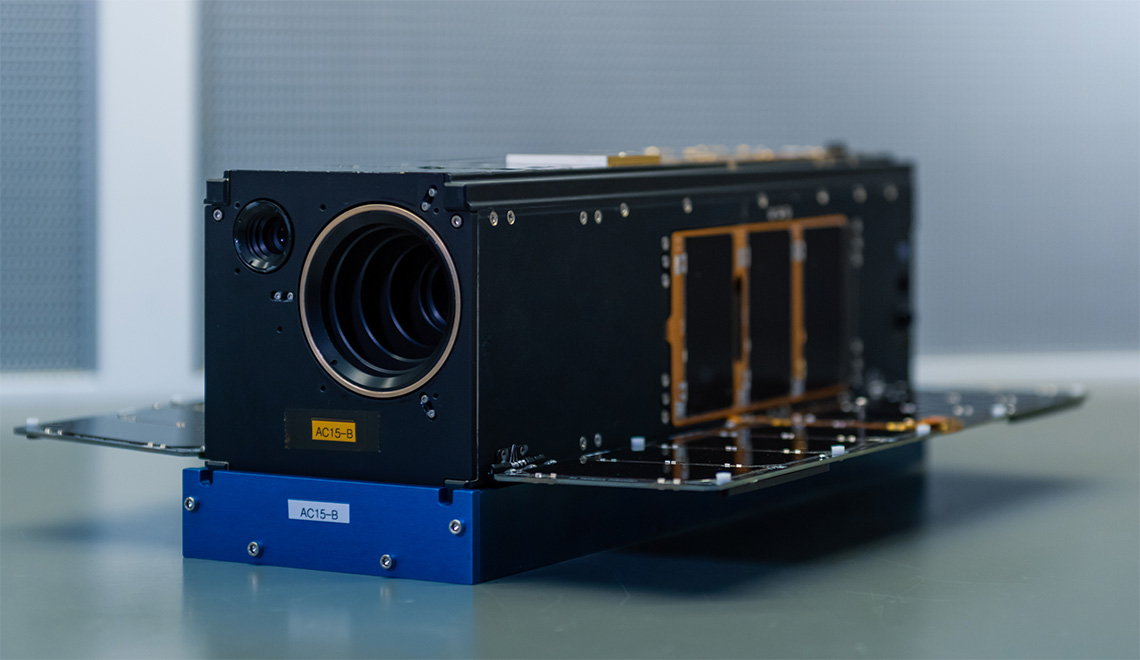 New Approaches to Standard Practices
Downlink communication lasers are critical to AeroCube functionality, and have typically required the establishment of an alignment of the laser boresight and a star tracker system. Until recently, this was accomplished by having the AeroCube generate a spiral scan pattern detectable to the optical ground telescope located in Aerospace's El Segundo campus, and having on-site personnel process data to establish alignment. Given the impact that the pandemic has had upon Aerospace operations, this approach was not currently feasible under mandatory telework conditions. However, necessity being the mother of all invention, it has prompted the team to develop new approaches to accomplishing the same goal.
"The optical ground station in the E-pod dome in El Segundo typically required a 2-person crew working in close proximity," said Darren Rowen, Director of Aerospace's Small Satellite Department. "With the COVID-19 operating restrictions, the team thought creatively and was able to develop a method using the partner spacecraft's star tracker as a receiver instead of the ground telescope. This required software updates for both space and ground systems to support this new method, and the team's experience with on-orbit reprogramming proved invaluable in enabling this modified approach."
The technology in question is up to the challenge, as the sensor in the star tracker has extended sensitivity into the near-infrared and can readily detect a 1064 nanometer (nm) laser signal. Furthermore, recently developed camera software can provide video of down-sampled and compressed frames small enough to downlink via ultra-high frequency (UHF) radio, enabling synchronization with the spiral scan. Most significantly, this new communication laser alignment method effectively reduces the on-site staffing requirement to zero.  
"The traditional laser alignment process is time-consuming to execute with ground telescopes due to limited opportunities imposed by orbital geometry and weather. The new cross-vehicle alignment methodology can now be executed multiple times for refinement and validation in a matter of days," Rowen added. Given that support from the ground telescope team is no longer required, this new approach is expected to be a preferred methodology for future missions when it is available. And if any further proof of the viability of remote work was needed, the necessary software updates that made this possible were developed by remote personnel, and the spacecraft software was also updated on-orbit by remote operators.  
Pandemic Realities Prompt New, Improved Methodologies
Going forward, new short-wave infrared band sensors will yield data on cloud backgrounds to inform future low Earth orbit missions, and a recent development mission will provide a lessons-learned baseline for rapid, commercial off the shelf-based spacecraft and payload production. Most importantly, this new, agile methodology may obviate the need for personnel operating within close proximity to ground stations, potentially ushering in a new era of decentralized, remote operations.
Aerospace's new approach to the AeroCube laser alignment process is testimony to its continued dedication to innovation and forward-thinking solutions for the space domain, and indicative of its proven ability to not only meet the challenges of an ever-changing industry, but also rapidly adjust operational standards to meet or exceed mission-critical needs and expectations.
Although the shift to remote work has been challenging, it is also fostering innovation and rapid, informed responses to new pandemic norms. As always, Aerospace's commitment to its strategic imperatives has enabled it to leverage its unrivaled technical expertise to find new means of providing services its customers rely upon, while effectively shaping the future in the process.