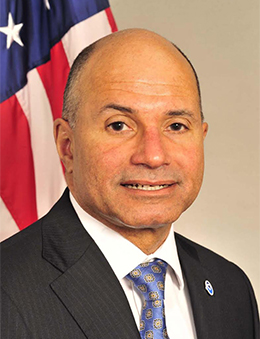 Manson Brown served as Assistant Secretary of Commerce for Environmental Observation and Prediction and Deputy Administrator of the National Oceanic and Atmospheric Administration (NOAA) from 2015 to 2017. He joined NOAA after a lengthy career in the U.S. Coast Guard, rising to the position of Deputy Commandant for Mission Support from 2012 to 2014. He was also a Coast Guard commander from 2008 to 2012. He began his Coast Guard duties aboard the icebreaker Glacier and subsequently advanced through a variety of leadership positions, including Military Assistant to the Secretary of Transportation, Senior Advisor for Transportation to the Coalition Provisional Authority in Iraq, Assistant Chief of the Civil Engineering Division in the Pacific, and Commander of Maintenance and Logistics. A graduate of the Coast Guard Academy, he holds an M.S. in civil engineering from the University of Illinois at Urbana-Champaign and an M.S. in national resource strategy from the Industrial College of the Armed Forces. His numerous honors include the Coast Guard Distinguished Service Medal and the Legion of Merit.
---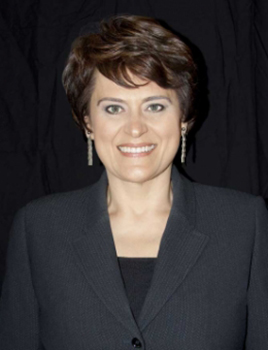 Carissa Bryce Christensen is the founder and CEO of Bryce Space and Technology, an analytic consulting firm specializing in space, cyber, and technology initiatives. She previously co-founded The Tauri Group and was a partner in CenTauri Solutions, consulting groups focused on national security and technology. She has extensive expertise in commercial space, with more than 25 years of experience in the field. Her ongoing work with government agencies, industry organizations, launch firms, and satellite manufacturers and operators helps decision-makers better understand market positioning, future demand for space services, competitive dynamics, and industrial base concerns. She regularly publishes work in peer-reviewed journals, industry publications, books, and conference proceedings and is often cited in trade and popular media. She holds an M.S. in public policy from Harvard University's Kennedy School of Government, where she specialized in science and technology policy.
---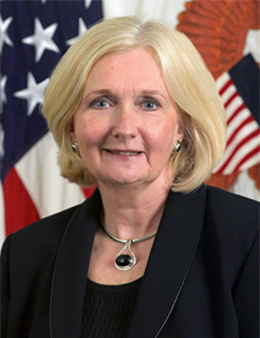 Madelyn Creedon has had a long and distinguished career in public service, most recently as Principal Deputy Administrator of the National Nuclear Security Administration (NNSA) within the Department of Energy, a position she held from 2014 to 2017. She also served in the Pentagon as Assistant Secretary of Defense for Global Strategic Affairs from 2011 to 2014, overseeing policy development in the areas of missile defense, nuclear security, cybersecurity, and space. She served as counsel for the U.S. Senate Committee on Armed Services for many years, beginning in 1990; assignments and focus areas included the Subcommittee on Strategic Forces as well as threat reduction and nuclear nonproliferation. During that time, she also served as Deputy Administrator for Defense Programs at the NNSA, Associate Deputy Secretary of Energy, and General Counsel for the Defense Base Closure and Realignment Commission. She started her career as a trial attorney at the Department of Energy. She holds a J.D. from St. Louis University School of Law.
---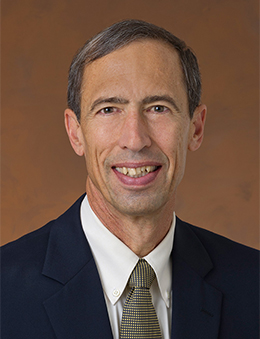 Larry James is the deputy director of NASA's Jet Propulsion Laboratory (JPL). In this capacity, he serves as the lab's chief operating officer, responsible for managing solar system exploration, Mars exploration, astronomy, physics, Earth science, and interplanetary network programs as well as all business operations. Prior to joining JPL in 2013, he served in the Pentagon as Air Force Deputy Chief of Staff for Intelligence, Surveillance, and Reconnaissance, responsible for policy formulation, planning, evaluation, oversight, and leadership of Air Force intelligence capabilities. He previously served as Commander of the 14th Air Force at Vandenberg Air Force Base, responsible for all military satellite, launch, and command and control operations. Earlier, he also served as Director of Signals Intelligence Systems Acquisition and Operations at the National Reconnaissance Office (NRO) and Director of Space Forces for Operation Iraqi Freedom. A graduate of the Air Force Academy, he holds an M.S. in aeronautics and astronautics from MIT. His honors include the Defense Superior Service Medal and the Legion of Merit.
---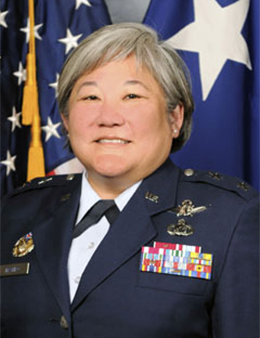 Susan Mashiko served as Deputy Director of the National Reconnaissance Office (NRO) from 2010 to 2014. Her Air Force career spanned a wide variety of space and acquisition assignments, culminating in her appointment as Director for Space Acquisition in the Office of the Under Secretary of the Air Force shortly before moving to the NRO. Previously, she served as Vice Commander at the Space and Missile Systems Center from 2008 to 2009. Other notable assignments include Chief of the Programs Division in the Office of Special Projects, Executive Officer to the Department of Defense Space Architect, Director of the Evolved Expendable Launch Vehicle System Program, Program Executive Officer for Environmental Satellites, and Commander of the MILSATCOM Systems Wing. A graduate of the Air Force Academy, she has an M.S. in electrical engineering from the Air Force Institute of Technology and an M.S. in national resource strategy from the Industrial College of the Armed Forces. Her honors include the Legion of Merit and the Defense Meritorious Service Medal.