Adapting for a rapidly evolving space environment requires agile and responsive methods to adding innovative capabilities that support mission needs. Typically, adding satellite capabilities in-orbit requires delivering new payloads to meet those needs—and the costs and time to get them there.
The Aerospace Corporation is pioneering a new approach to payload provisioning that leverages the ability to reassign spacecraft payloads with advanced software and processing, endowing existing hardware with new or enhanced capabilities that support mission needs.
"Massless payloads are an elixir for not letting better become the enemy of good enough," said Peter Cunningham, lead for the massless payload program office at Aerospace. "The mindset of massless payloads is agile response, and the ability to leverage available resources to give yourself every possible advantage for a desired outcome."
Dr. Steven Lewis, technical director for the massless payload program office at Aerospace, first conceived the concept in late-2020 during a cold call he made to a commercial space company. After a weekend of coding, he developed the first "massless" payload pathfinder prototype and successfully demonstrated the ability to use existing, on-orbit spacecraft hardware to detect and characterize threats.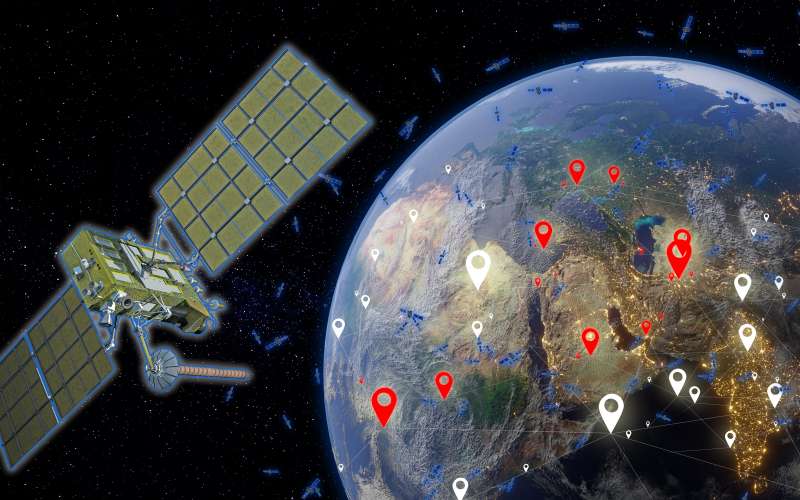 This first massless payload, called the GPS Electromagnetic Interference Monitor for Spacecraft (GEMS), was able to generate persistent electromagnetic interference (EMI) maps of the Global Positioning System signal environment by exploiting data from the receivers onboard many of on-orbit commercial spacecraft. While EMI detection can be accomplished with specialized hardware, the massless payload approach was able to accomplish this by, as Lt. Gen. Michael Guetlein, commander of Space Systems Command, puts it, "exploiting what we have."
Lewis credits the help of Cunningham and Vincent Kong, lead for the massless payload program office at Aerospace, and the Engineering Technology Group technical backplane on the first massless payload, demonstrating the value of leveraging the commercial ecosystem to advance innovative approaches that outpace the threat.
Getting DEEP with Massless Payloads
The massless payload project has since grown into three on-going efforts and is already providing user products that are supporting current space missions. Immediately following Aerospace's pathfinder prototype, GEMS was transitioned to industry for operational prototyping through a project named Data Exploitation and Enhanced Processing (DEEP). Aerospace was the obvious choice to lead the way.
The first module of DEEP laid the foundation for non-traditional commercial data exploitation and included an automated pipeline of massless payload data and products from sensors to users. Satellite telemetry from commercial spacecraft was transported to the automated DEEP processor that cleaned and standardized the data, enabling for near-global, persistent detection and characterization of GPS interference.
Since GPS transmissions are simply radio signals with modulated data, it opened the door for extended electromagnetic (EM) spectrum awareness—not just monitoring GPS in Ultra High Frequency (UHF) for positioning, navigation, and timing (PNT), but monitoring other spectrum used in other mission areas, such as SATCOM, command and control (C2), and space domain awareness (SDA).
"Aerospace's capability to bring actionable intelligence to the warfighter via DEEP is vital to Space Force's mantra of Exploit, Buy, Build in today's desire to address our acquisitions with velocity," said Kong. "This means that we exploit additional capabilities that the government already have or own, buy systems and services that are available and existing, and build the exquisite systems that are needed. DEEP is the quintessential example of exploiting data from systems that are already providing data and that the government own in ways we have not seen before to support the warfighter. The program office is looking to continuing supporting efforts like DEEP that bring immediate impact to our customer."
Another pathfinder demonstration was conducted in 2021 with an expanded team, showing the ability to use command receiver data to map global radio frequency interference (RFI) that can impact space telemetry, tracking and command (TT&C) and other links. The pathfinder GPS module became DEEP-PNT, and from there, DEEP-RF was born.
DEEP-RF is in active development and is pursuing expanded radio frequency (RF) spectrum monitoring for detection and characterization of interference. DEEP-PNT has continued to support both crewed and uncrewed civil and national security space activities.
The Aerospace DEEP team most recently supported risk posturing for civil space activities. On Nov. 1, Aerospace had the privilege of leading the inaugural DEEP-PNT support to the Joint Task Force Space Defense (JTF-SD) Commercial Operations (JCO).
Expanding Solutions for Space Domain Awareness
Taking the idea of using the observables or measurements from existing spaceborne hardware to the next level, Aerospace has developed a star tracker massless payload to detect and characterize resident space objects (RSOs).
In collaboration with the AeroCube team, the group has demonstrated the ability to use "sparse data" from a star tracker to identify and characterize RSOs by correlating them to star and space object catalogs.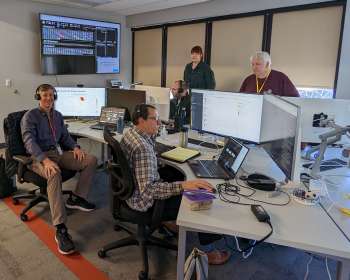 Incorporating these valuable use cases and lessons learned, Aerospace has created an environment for the development of new massless payload concepts by identifying their operational utility and connecting them with operational prototyping opportunities.
"We are uniquely establishing the foundation for the space systems architecture and technologies that are enabling new massless payloads across the space enterprise," said Lewis. "As the massless payload pioneers, we continue to work with our government partners to enable the strategic vision, craft the technical roadmap, and develop new capabilities that fully exploit the space systems we have to rapidly solve the problems of today while being poised to pivot to the evolving challenges of the future."