On Nov. 1, 2022, a SpaceX Falcon Heavy rocket lifted off from Kennedy Space Center's Space Launch Complex 39A at 9:41 a.m. EDT, and successfully delivered the USSF-44 payloads into geostationary Earth orbit.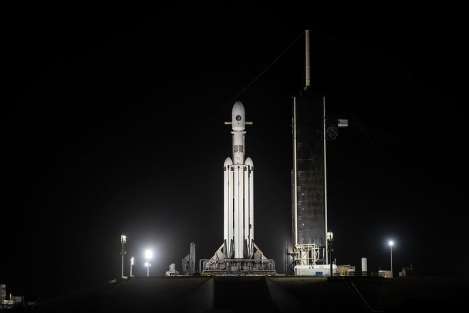 This was the first time the United States Space Force (USSF) launched a National Security Space Launch (NSSL) mission on a Falcon Heavy rocket, which is currently SpaceX's most powerful rocket. It was also the first time that SpaceX performed a direct inject mission to geostationary orbit. This launch marked the fourth Falcon Heavy flight overall for SpaceX, and the first since June 2019. The Aerospace team worked tirelessly to successfully overcome several late breaking issues associated with mission trajectory and navigation, as well as propulsion and structural systems.
The USSF-44 payload was comprised of the Long Duration Propulsive EELV Secondary Payload Adapter -2 (LDPE ESPA)-2 Space Vehicle with hosted payloads, and the Shepherd Demonstration mission.
As with prior NSSL missions, The Aerospace Corporation provided the independent and objective assessments that gave the USSF and Aerospace leadership the confidence to proceed with the launch. This was a complex mission requiring a challenging ascent profile to near-geosynchronous orbit.
"The days preceding the launch tested the grit and determination of our team, and I am very pleased with their 'combined effort' to mitigate several last-minute emerging issues," said Akhil Gujral, General Manager for the Launch Systems Division. "Our teams remain laser-focused to place critical national capabilities to support our nation's needs."
The side boosters successfully returned to the launch site and land at their intended landing zones near Launch Complex 39A. They will be refurbished for a subsequent USSF launch, and then recovered and refurbished for a third USSF launch, which are both scheduled for later this fiscal year.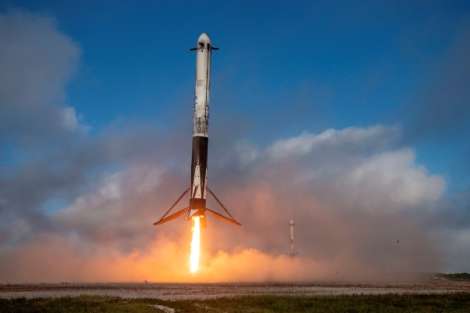 This mission represented a challenging integration flow and complicated by spacecraft readiness delays that tested the resiliency of the integrated team.
From evaluating various do-no-harm criteria (across multiple payloads) to evolving approaches to integrated operations, this mission established an excellent baseline for teamwork that will be used to manage similar missions throughout the NSSL manifest in the next few years.
"I am extremely proud of the USSF-44 mission team and honored to have walked this campaign with them," said Dr. Walt Lauderdale, NSSL's Chief of Falcon Systems and Operations. "Time and again I was impressed with how they dealt with the unexpected over the course of several years; they brought this mission capability to orbit on our first NSSL Falcon Heavy. Outstanding!"
Finally, the team received a special note from just-retired Gen John "Jay" Raymond (Chief of Space Operations), who wrote: "I can't think of a more exciting or meaningful last day in the job. Watching USSF-44 launch into orbit on a Falcon Heavy is something I will never forget! The beginning of a new era in Space. Keep leading!"