Aerospace's Concept Design Center (CDC) applies cutting-edge digital engineering tools and approaches to provide relevant information and guidance in customers' decision-making processes.
Each summer, the CDC forms teams of promising future engineers to pursue challenging design problems. However, unique to this past summer, multiple intern teams contributed to an integrated effort to provide an in-depth analysis on a single customer-funded initiative: Project Wildfire.
"Our Aerospace interns tackle real-world problems using the Concept Design Center," said Dr. Rob Stevens, Director of Aerospace's Model-Based Systems Engineering Office. "This past summer, more than 30 interns across Aerospace's Engineering and Technology Group (ETG) and customer-facing program offices came together and worked in a highly collaborative environment to develop and evaluate architecture options and system design solutions to improve wildfire detection, monitoring, and response."
Three Teams, One Goal
As wildfires grow in frequency due to climate change, the ability to detect and monitor this type of natural disaster is becoming more crucial than ever. Although some satellites can track these environmental events, there is no singular spacecraft that can provide such information in a consistent and high-resolution manner. To address this gap, the CDC formed three intern teams: a System Architecture Team (SAT) and two Space Segment Teams (SST).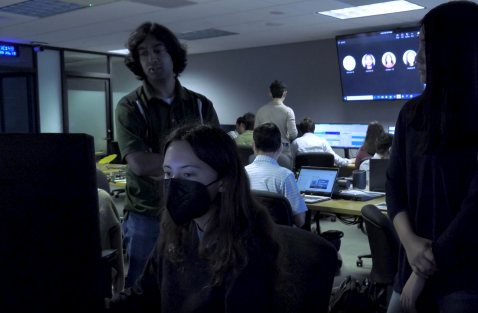 "We're hoping to design a satellite constellation that can perform wildfire detection and monitoring to help alert people on the ground where wildfires are starting and how they are developing," said Patrick Follis, graduate overall project co-lead and space engineering graduate student at Delft University of Technology. "[By improving] current capabilities, [such as] better revisit times, we can get more updated information at a quicker pace. Since wildfires can move very quickly, we're trying to mitigate damage to property and loss of life."
Coming from various academic institutions and fields of study, these 34 individuals brought different perspectives and skillsets to Project Wildfire. And while the CDC internship program enabled individuals to refine their strengths, it also presented opportunities to experience new areas outside their typical wheelhouse.
"[The System Architecture Team] is more focused on the high-level requirements—defining and figuring out the different architecture configurations that we're going to go with for our satellite," said Kylie Phelps, SAT undergraduate lead and aerospace engineering student at Georgia Institute of Technology.
Through investigating a relevant, real-life need among Aerospace's customers, the cohort gained invaluable hands-on professional experience while simultaneously developing new and improving existing CDC capabilities. For example, the teams incorporated augmented and virtual reality (AR/VR) technology into their analysis and problem-solving approaches.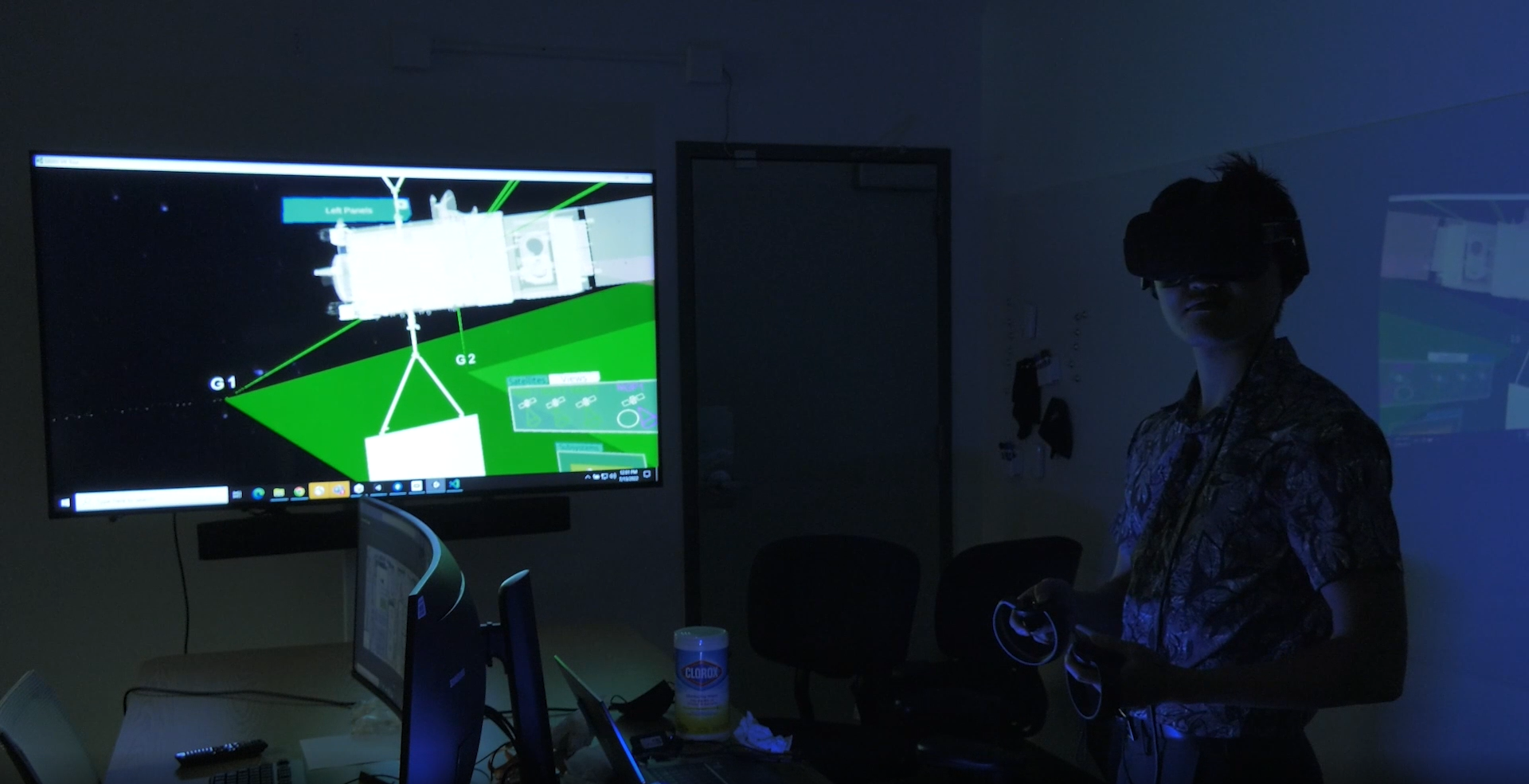 "People who are doing the engineering will be able to throw on the goggles or look at a simulation that's going on and be able to glean what are some things that we're missing," said Sean Sewell, member of the Model Based System Engineering, Digital Engineering, and SST Propulsion teams and mechanical engineering student at Stanford University. "I think it's kind of a test to see if we can really use AR/VR tools to be beneficial in the engineering process."
A Meaningful Impact for All
Providing a collaborative environment was a core element of the internship experience. Over the duration of the summer, students received mentorship from Aerospace subject matter experts (SMEs) as well as support from each other.
The workspace also contributed to a sense of community and teamwork. During the week of July 25, two of the teams performed studies in the CDC lab located on the El Segundo campus. Over the course of the three-day study, the multi-disciplinary teams tested their designs. Because the lab is set up to share data and information in real-time, teammates were able to work and execute their projects in a fluent manner.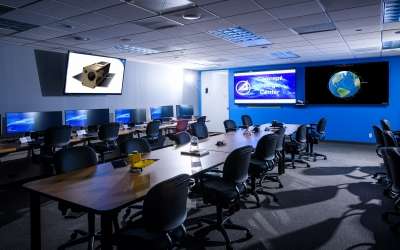 During the first week of August, the teams presented an outbriefing of their results to the internal project customers. The cohort also submitted a study report that will turn into an Aerospace Tech Memo (ATM).
By the conclusion of summer, the group undertook and completed impactful work that has advanced digital engineering capabilities and will influence space-based environmental monitoring initiatives.
"If we come up with something that's competitive, improves on current capabilities and is low cost relatively speaking, this could definitely get some interest in people that are trying to solve this problem whether its governmental or private companies," said Follis.
This marks the seventh year of a summer intern CDC study coordinated by the Architecture and Design Subdivision in ETG. Dr. Rob Stevens, Akshay Bakane, Harrison Wight, Nishant Prasadh, AbdAl R Chamas, Rina Onishi, Alejandro Trujillo and Al Tsuda led in coordinating the 2022 CDC intern program, along with the support of many others across the corporation.