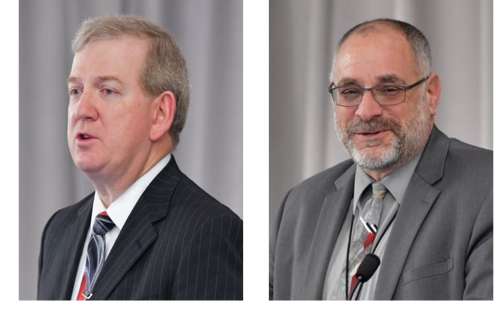 Model-based systems engineering (MBSE) is a necessary entry point in our ability to go faster in defining, acquiring, and operating as an enterprise. Rapid change for the space community—with greater international competition, enhanced threat to our space-based systems, and continued focus on how to become better at providing capabilities at the speed of need with a price that is nice— is driving an enterprise solution. MBSE is a strong contributor to meeting these needs and is viewed as a necessary evolution to conduct systems engineering. 
"Leveraging Model-Based Systems Engineering (MBSE) Across the Enterprise" was the theme of the Systems Engineering Forum hosted by Aerospace. Close to 300 participants from more than 65 organizations— DOD, the Intelligence Community, civil and commercial space, tool vendors, and academia—attended.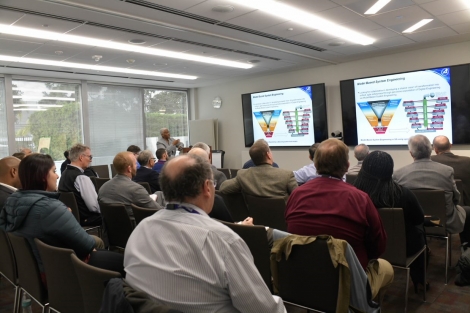 The forum included tutorial fundamentals and basic research to lessons shared through panels, technical presentations, and collaborative workshops on implementation strategies and successful outcomes. 
Aerospace's roadmap for advancing the practice of MBSE provided a framework of near-term and end-state approaches to enable the enterprise, improve acquisition execution, institutionalize evolved systems engineering, and advance MBSE tools. 
Government keynotes highlighted that the collaboration progress has advanced MBSE from a talking point at a similar forum four years ago to program and enterprise level implementation subsequently. Greater international competition and enhanced threat to space-based systems require rapid space community change. Focusing on enhancing model-based capabilities will increase missions success fulfilling the digital engineering vision. 
Community leadership outcomes included the following: 
MBSE Tool Vendor Exposition and use case presentations strengthened the relationship to government and industry. During the industry panel, one panel member stated that vendor participation in the government/industry discussions provided unprecedented insight into user needs. 
Government presentations showcased enterprise and program level plans, progress, and tool implementation that can be used as exemplars across the space organizations. 
Transformation talks showcased how digital data lives across the product lifecycle and is used from project formulation through a smart factory and beyond for operations and maintenance. 
The Aerospace "MBSE Fundamentals Tutorial" for newcomers provided language, concepts, and examples. A separate Aerospace "MBSE Problem Framing Tutorial" based on real-program applications provided a method to determine enterprise and program objectives. 
Trade groups, professional societies, and research centers connected for the first time to expose attendees to the emerging standards, committees, working groups, and products to apply MBSE to their domains. 
Collaborative workshops tackled the tough topics of "MBSE Utility in Cyber Security" and "MBSE to Streamline Testing." Another workshop, "Model-based Capabilities Matrix," provided an assessment framework to define and build organization capabilities development plans. 
Subscribe to Getting It Right
Want Getting It Right delivered to your inbox quarterly?