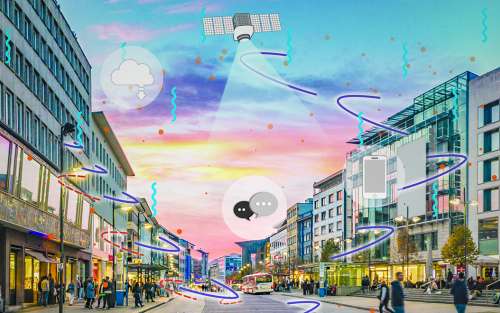 Tune in to The Space Policy Show
Brought to you by The Aerospace Corporation's Center for Space Policy and Strategy
We know working from home can be isolating, stressful and potentially boring. We are here to help keep you connected to the latest in the space policy community! The Aerospace Corporation's Center for Space Policy and Strategy is offering a series of online webcasts and virtual meetings as an opportunity to stay engaged with the larger space policy community. Join us!
The next episode in the series is:
Tuesday, Mar. 31, 1pm EST
Developing a Sustainable Spectrum Approach for 5G Services & Critical Weather Forecasts with David Lubar
Future episodes will cover topics such as blockchain applications for space, what the expiration of New START could mean for U.S. space forces, large constellation disposal hazards, and more (subject to change).  
-------------------------------------------------------------
Thursday, Apr. 2, 1pm EST
What the Expiration of New START Could Mean for U.S. Space Forces
with Mick Gleason 
Tuesday, Apr. 7, 1pm EST
Large Constellation Disposal Hazards
with Bill Ailor
Thursday, Apr. 9, 1pm EST
Space Grows Faster When It's Safer: Safety and Sustainability
with Josef Koller and George Nield
Tuesday, Apr. 14, 1pm EST
Closing the Arctic Infrastructure Gap: National Security and Commercial Considerations
with Karen Jones and Lina Cashin
 Thursday, Apr. 16, 1pm EST
The Hypersonic Missile Spectrum: Choices and Opportunities 
with Sam Wilson
Tuesday, Apr. 21, 1pm EST
The GEOINT Singularity 
with Josef Koller
Thursday, Apr. 23, 1pm EST
Outpacing the Threat with An Agile Defense Space Enterprise
with Malina Hills, Dave Eccles, and Karen Jones
Tuesday, Apr. 28, 1pm EST
High-Volume Production of Satellites 
with Dave Eccles 
Thursday, Apr. 30, 1pm EST
Strategic Foresight Panel: An Exploratory Dialogue on the Possibilities of the Future Space Enterprise with Kara Cunzeman, Jake Sotiriadis (AFWIC), Josh Kerbel (NIU)
Stay current on space policy
The Center for Space Policy and Strategy provides nonpartisan research and strategic analysis to decision-makers in the space enterprise.