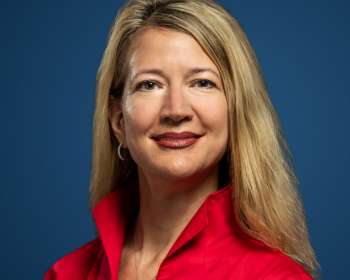 10:00 a.m. Welcome
General Manager Dr. Debra Emmons kicks off a day of networking and demonstrations. Debra will give us an overview of the newest projects from Aerospace's Communication and Technologies Engineering Division, featuring point-to-point transmission of information and the embedding of those links within a networked environment technologies.
10:10 – 10:45 a.m. Speaker Breakout Rooms 
Choose a breakout room for an overview of one of the three major subdivisions within our Communication Technologies and Engineering division. Learn about our engineers shaping the future with robust capabilities, research and prototyping in support customers within the intelligence community, U.S. Air Force and civil systems.
RF & Optical Communication Overview
Leaders in Aerospace's RF and Optical Communications subdivision talk about the comprehensive engineering work of communication and network devices, payload and subsystems.
Speakers: Diana Johnson, Grace Wang, James Bardeen
Communication & Network Architectures Overview
Leaders in Aerospace's Communication and Network Architectures subdivision talk about the full spectrum of communications, network architectures and systems engineering.
Speakers: Alan Foonberg, Mary Nichols, James Stepanek, Alinn Herrera
Communication Systems and Agile Processing Overview
Leaders from Aerospace's Communication Systems and Agile Processing subdivision talk about the development of proof-of-concept and operational communication solutions for space systems.
Speakers: Jason Hsu, Mike Nemerouf, John Janeski, Martin Tucker, Bob Kluesener
10:45 a.m. – 12:30 p.m. Networking Breakout Rooms 
Choose a networking room to connect with the speakers and other key leaders in each of the subdivisions. Feel free to exchange stories about your experiences, talk about your interests, or ask any unclassified questions with Aerospace representatives. We look forward to connecting with you.
RF & Optical Communication Networking

Communication & Network Architectures Networking

Communication Systems and Agile Processing Networking
12:30 p.m. – 1:30 p.m. Ask Me Anything Panel
Join us for an hour of open Q&A! Ask us anything, like:
What is the most complex, unclassified problem you've solved to date?
Why did you choose The Aerospace Corporation? 
What keeps you at Aerospace? 
ALMOST nothing is off limits, so ask away!
1:30 p.m. – 1:35 p.m. Farewell
---
10:45 a.m. – 1:30 p.m.  Networking Booths
Visit our Networking Booths anytime throughout the event!
Employee Resource Group Connections
What it's like to work at Aerospace? What are our ERGs doing? We will have information and representatives from all of our groups during the day for the opportunity to connect.
Human Resources Information
If you have questions about how Aerospace is handling COVID-19 protocols, how we do remote work, our benefits, or any other employment questions, you can connect with our human resources representatives in this booth.
CTED Networking Event
Interested? View the agenda to learn more about our CTED speakers, booths and breakout rooms.